HOLLYLAND Solidcom C1 Hub-8S Intercom System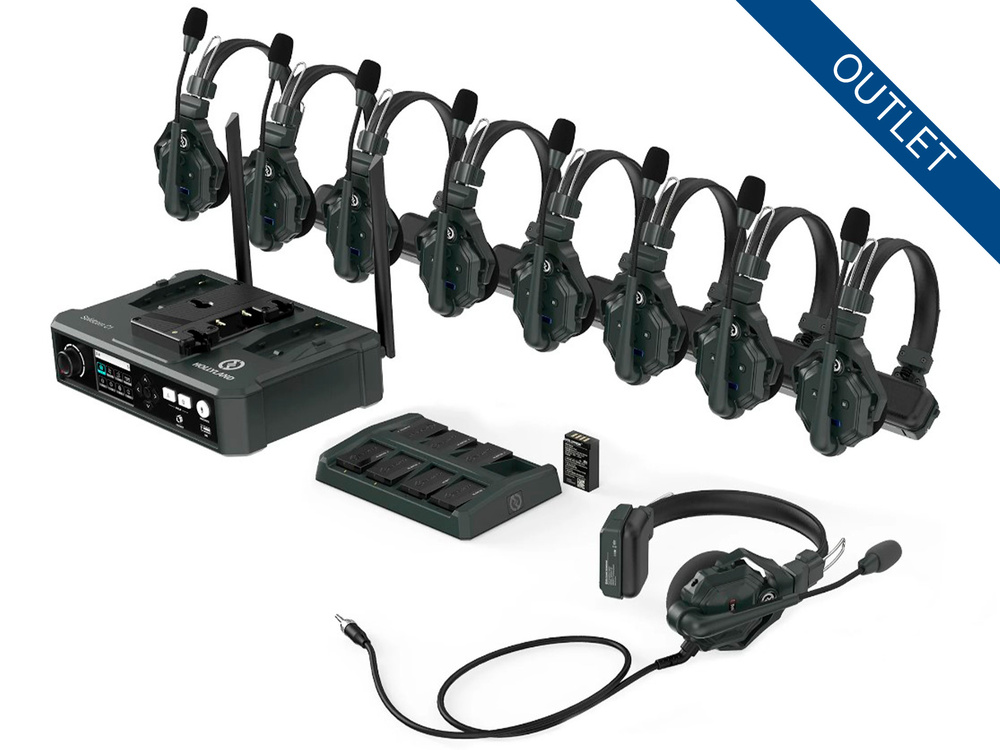 NPA_OUT_014 Hollyland's first true wireless and self-contained headset communication solution with exceptional sound clarity
The Hollyland Solidcom C1 - HUB8S is a full-duplex wireless DECT intercom system engineered to provide clear audio. It allows for all-day wearing comfort in a true-wireless design with no bodypack required. The system uses DECT 6.0 encryption and dual-antenna technology to ensure secure and reliable transmission at a range of up to 350m. This makes it well suited for a variety of applications, such as film production, concerts, and public events.
True-wireless headset for 350m line-of-site 2-way communication
150 Hz to 7 kHz frequency response for precise coordination
Easy setup with auto-connection right out of box
Enhanced stability and security with DECT 6.0
Cascade connections via IP networks, 2/4-wire audio input-output interfaces
A/B grouped talk setting
Announce the key to mute all the headsets for emergency messages from the HUB base
UAC (USB Audio Class) function enables the HUB to join in any cloud meeting on your computer
Self-Contained Headset for 2-Way Communication
With no beltpack to worry about, Solidcom C1 offers a highly portable and hands-free coordinating experience. This is perfect for media production teams and others looking for real-time voice communication at distances up to 350m.
Wide Frequency Response for Precise Coordination
It offers a 150 Hz to 7 kHz frequency response and premium acoustic echo cancellation (AEC) to ensure clear intelligible audio. The directional mic captures the speaker's voice precisely, providing clear conversations even in noisy environments.
Enhanced Stability and Security with DECT 6.0
Built on the powerful DECT 6.0 platform, the Solidcom C1 ensures secured conversation with encryption technology. and You'll have a reliable transmission featuring a dual-antenna diversity scheme.
Ready to Use Right Out of the Box
The headsets pair up automatically and feature tactile buttons for quick adjustments. The microphone boom on each headset rotates 360°, allowing for left or right orientation and easy Mute/Talk switch by a simple push up/down.
Expandable System
The C1 HUB base included in this configuration allows up to eight remote headsets and one wired headset to be used at once. It can interconnect multiple systems to accommodate expanded communication needs via IP networks, and 2/4-wire audio input-output interfaces.
Rechargeable Batteries + Charging Station
Each headset runs on a single rechargeable battery for up to 10 hours per charge. The battery fully recharges in 2.5 hours, and a battery charging station, USB cable, and AC adapter are included.
8x Master & Remote Headsets
16x Lithium Batteries
9x Microphone Cushins
9x Over-ear Leather Cushion
9x On-ear Foam Cushion
1x 8-slot Charging Case
1x HUB Base
4x Antennas
1x 3.5mm Headset for the HUB
1x USB-A to USB-C Cable
2x 12V-2A DC Adapters
1x Headset Stickers
1x User Manual
Transmission Range - 350m Line-of-Sight
Frequency Information

Frequency band: 1.9GHz DECT (varies by country and region)
Modulation mode: GFSK
Transmit power: <21dBm (125.9mW) (varies by country and region)
Receiving sensitivity: <-90dBm"

Transmission Latency - <35ms
Battery Capacity - 700mAh (2.66Wh) Li-lon battery
Runtime

Master headset: ~6h (when connected with 3 remote headsets)
Master headset: ~5h (when connected with 5 remote headsets)

Charging Time - ~2.5h
Frequency Response - 150Hz~7KHz
Signal-to-Noise Ratio - >55dB
Distortion - <1 %
Microphone Type - Electret
Maximum InputSound Pressure Level - >115dBSPL
Output SoundPressure Level - 98+3dBSPL (at 94dBSPL 1kHz)
Net Weight - ~170g (batteries included)
Working Temperature

0~+45°C (Working Status)
-20~+60°C (Storage Status)"