DPA 4097 CORE Micro Shotgun Mic, Black MicroDot, 10 cm (4 in) full Gooseneck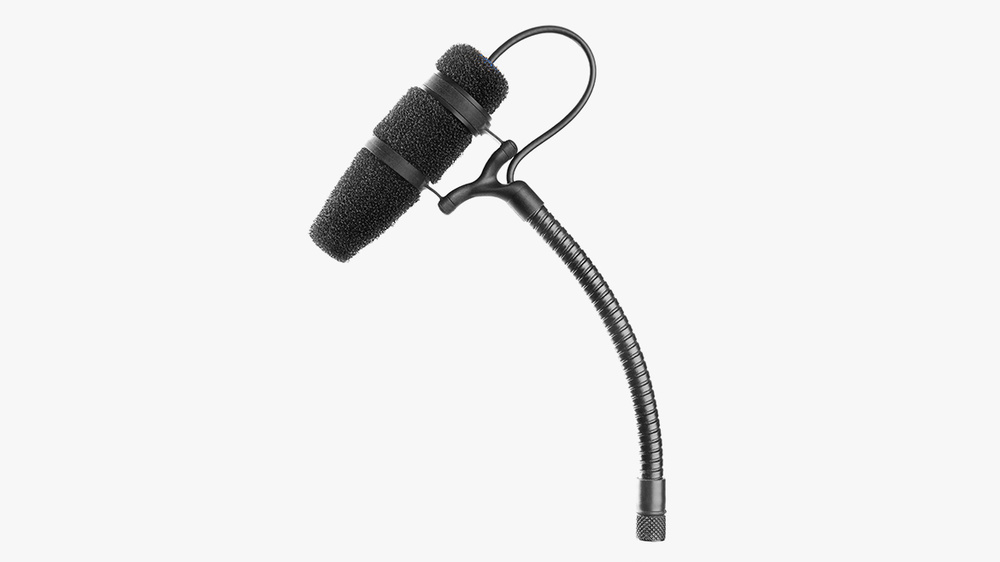 A flexible broadcast solution for challenging times
The 4097 CORE Micro Shotgun Mic is a lightweight, easy-to-use, multi-purpose problem solver for a range of broadcasting situations – including interviewing as well as voice over work.
Small footprint, lightweight
Enhances speech intelligibility
Built-in shock mount
Resistant to moisture, extreme temperatures and humidity
Extensions and range of mounting options available (4099 series of clips)
Specific interview kit for broadcast
This mic makes it easy to deliver great sound in challenging situations. It shines in outdoor locations, handling inclement weather and limiting intrusive background noises. It's a professional solution for professional broadcasters.
Rugged enough for film sets
Wind machines, rain machines, tight costumes, quick changes – these are normal situations on some film sets and they require durable microphones. The 4097 Plant Mic was built to withstand harsh use as well as water, wind, dust, heat, cold and many other tough conditions that can be commonly found both on location and on a film set.
Transmitter-direct solution
Mount the microphone directly on the transmitter and place it on a podium or table. This is a quick and easy mic solution with a very small presence.
Interference tube and CORE by DPA technology
The 4097 CORE Micro Shotgun Mic uses a small-diaphragm, pre-polarized condenser capsule with a supercardioid pickup pattern mounted deep inside a small interference tube, which sits inside of a small replaceable foam windscreen. The interference tube used increases the mic's directionality, while maintaining flat on-axis frequency response and consistent off-axis response. Increased directionality, combined with good off-axis rejection, allows the microphone to isolate what should be picked up while attenuating sounds from the sides and rear. CORE by DPA is a powerful technology at the heart of DPA's miniature microphones. We've minimized distortion across the entire dynamic range. You will experience increased audio clarity and openness. All CORE by DPA technology microphones, including the 4097 CORE Micro Shotgun Mic, are IP58 certified.
DPA 4097 Frequency Response: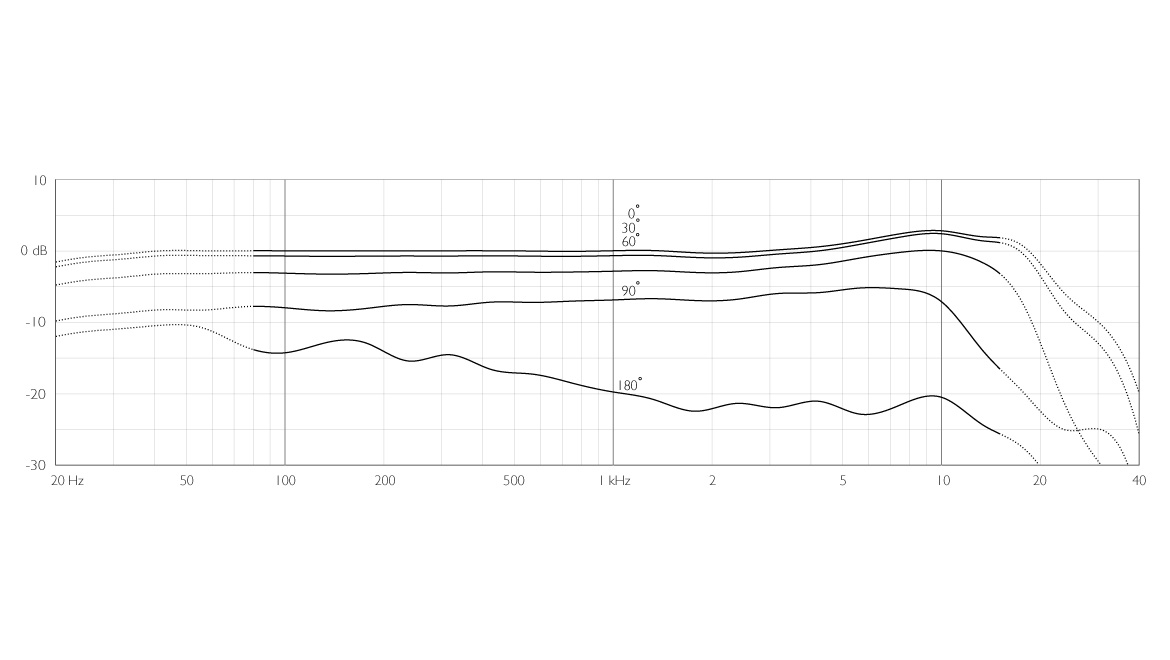 Typical on and off-axis response of a 4097 microphone measured at 20 cm (7.9 in).
DPA 4097 Polar Pattern: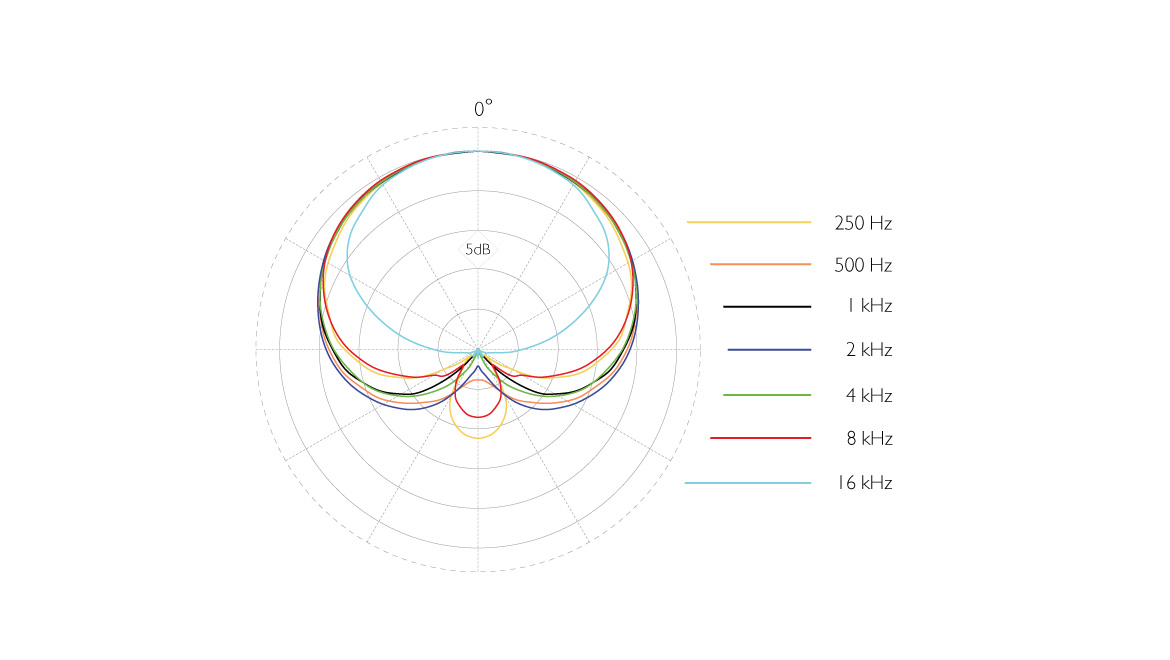 Typical directional characteristics of a 4097
1x DPA 4097 CORE Micro Shotgun Mic, Black MicroDot, 10 cm (4 in) full Gooseneck
Directional Pattern:
Supercardioid
Principle of operation:
Pressure gradient
Cartridge type:
Pre-polarized condenser
Frequency response:
20 Hz - 20 kHz
Dynamic range:
Typ. 110 dB
Effective frequency range ±2 dB, at 20 cm (7.9 in):
80 Hz - 15 kHz with 2 dB soft boost at 10-12 kHz
Sensitivity, nominal, ±3 dB at 1 kHz:
16 mV/Pa; -36 dB re. 1 V/Pa
Equivalent noise level, A-weighted:
Typ. 23 dB(A) re. 20 µPa (max 26 dB(A))
Equivalent noise level, ITU-R BS.468-4:
Typ. 35 dB (max. 38 dB)
Distortion, THD < 1%:
130 dB SPL RMS, 133 dB SPL peak
Max. SPL, THD 10%:
135 dB SPL peak
Rated output impedance:
From MicroDot: 30 - 40 Ω. From DAD4099-BC XLR Adapter: 100 Ω
Cable drive capability:
Up to 300 m (984 ft) with DAD4099-BC XLR Adapter
Common mode rejection ratio (CMRR):
> 60 dB from 50 Hz to 15 kHz with DAD4099-BC XLR Adapter
Power supply (for full performance):
For wireless systems Min. 5 V - max. 10 V through DPA adapter
With DAD6001-BC: P48 (Phantom Power). Will work from 12 V
Current consumption:
Typ. 1.5 mA (microphone). 3.5 mA with DAD6001-BC XLR Adapter
Weight:
10 g (.35 oz)
Microphone length:
10.4 cm (4 in)
Temperature range:
-40°C to 45°C (-40°F to 113°F)
Relative humidity (RH):
Up to 90%
Related products