DPA 4018 Supercardioid Mic, Black, XLR, 122 cm (48 in) Boom, top and bottom Gooseneck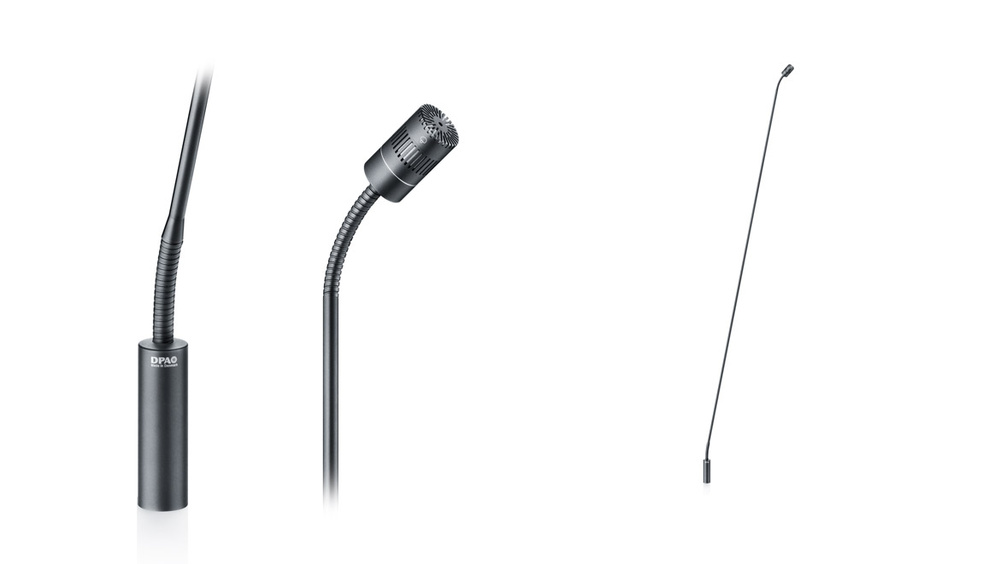 4018-DF-G-B01-120
5713055017460 Speech intelligibility - low noise
This solution uses the MMC4018 Cardioid Microphone Capsule, which has a highly-directional supercardioid pickup pattern with a smooth and uniform off-axis frequency response. The supercardioid shape is frequency independent, securing an identical sound color around the microphone. The usual rear lobe heard on most supercardioids is minimized on this capsule. This makes it much more isolated without sudden frequency dependent peaks and dips.
With XLR Connection
Outstanding audio quality
Wireless podium mic capability
Highly directional – very isolated
High rejection of radio frequency interference
Sleek Scandinavian design
DPA gooseneck microphones have quickly become a very popular choice for podium mics as well as for conference room usage as either tabletop or ceiling mount. They are used at parliaments where multiple languages are to be simultaneous interpreted and the interpreters must catch every word and nuances of the spoken word and in a split second deliver the perfect translation.
4018 Frequency response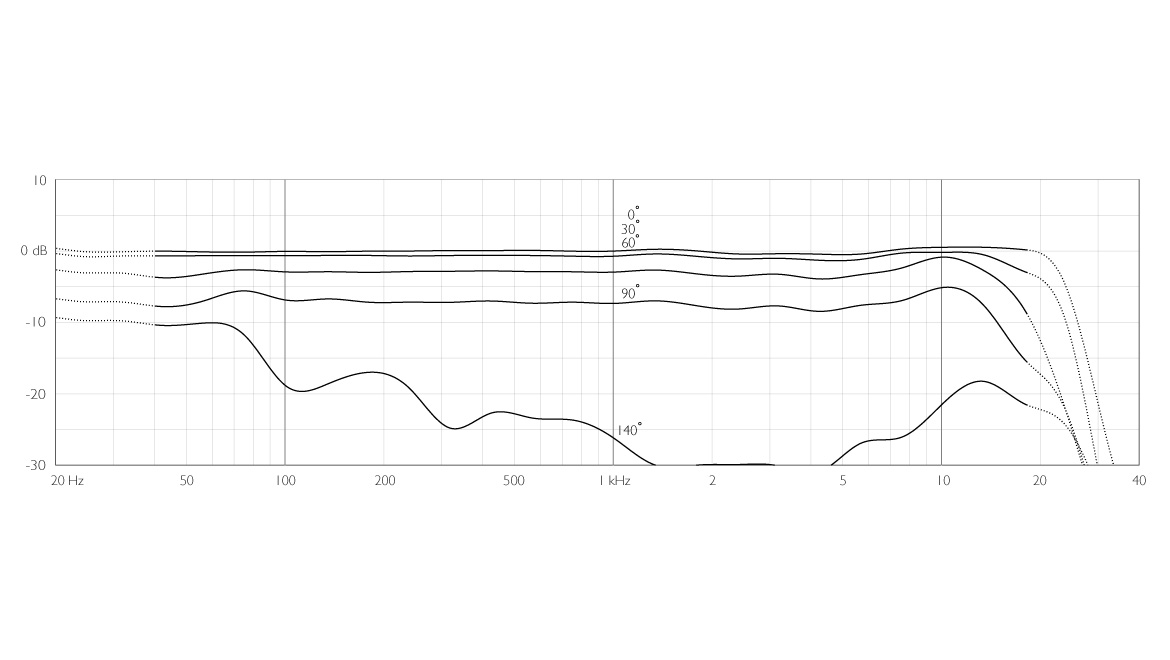 Typical on and off-axis response of a 4018 Gooseneck Mic
4018 Polar Pattern: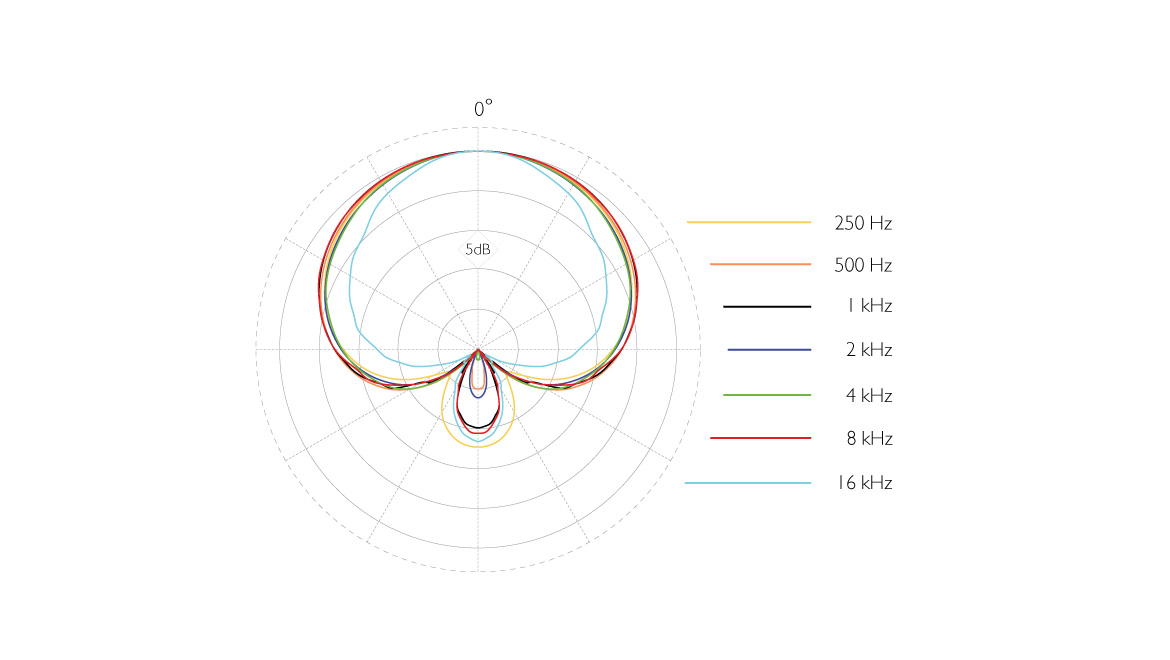 Typical directional characteristics of a 4018 Gooseneck Mic
1x DPA 4018 Supercardioid Mic, Black, XLR, 122 cm (48 in) Boom, top and bottom Gooseneck
1x Foam Windscreen
| | |
| --- | --- |
| Directional Pattern: | Supercardioid |
| Principle of operation: | Pressure gradient |
| Cartridge type: | Pre-polarized condenser |
| Frequency response: | 20 Hz - 20 kHz |
| Dynamic range: | Typ. 121 dB |
| Length: | 122 cm |
| Connector: | XLR |
| Effective frequency range, ±2 dB, at 30 cm (11.8 in): | 40 Hz - 18 kHz |
| Sensitivity, nominal, ±2 dB at 1 kHz: | 12 mV/Pa; -38.4 dB re. 1 V/Pa |
| Equivalent noise level, A-weighted: | Typ. 16 dB(A) re. 20 µPa (max. 19 dB(A)) |
| Equivalent noise level, ITU-R BS.468-4: | Typ. 23 dB |
| Distortion, THD < 1%: | 134 dB SPL RMS, 137 dB SPL peak |
| Max. SPL, THD 10%: | 142 dB SPL peak |
| Minimum load impedance: | 2 kΩ |
| Rated output impedance: | 100 Ω |
| Cable drive capability: | 100 m (328 ft) |
| Output balance principle: | Impedance balancing |
| Common mode rejection ratio (CMRR): | > 40 dB |
| Power supply (for full performance): | P48 (Phantom Power) |
| Current consumption: | 3.5 mA |
| Maximum output voltage, RMS: | 2.2 V |
| Polarity: | +V at pin 2 for positive sound pressure |
| Matching tolerance (frequency response and sensitivity): | ±1 dB |
| Phase deviation for kit: | < 10° |
| Microphone diameter: | 19 mm (0.75 in) |
| Capsule diameter: | 19 mm (0.75 in) |
| Microphone length: | Capsule: 23 mm (0.9 in), Boom poles: 20 cm (8 in), 32 cm (13 in), 47 cm (18 in), 77 cm (30 in), 122 cm (48 in) |
| Temperature range: | -40°C to 45°C (-40°F to 113°F) |
| Relative humidity (RH): | Up to 90% |
Related products