DPA 4098 CORE Supercardioid Ceiling Mic, 16 cm (6 in, White, unterminated, P48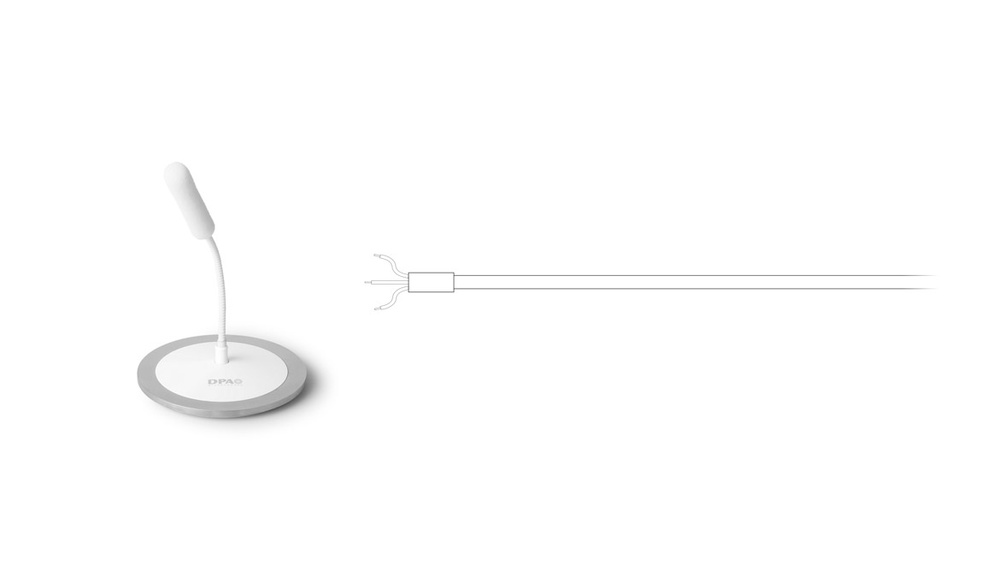 4098-DC-D-WUT-015
5713055013257 Supercardioid Ceiling Microphones
A complete, supercardioid ceiling microphone solution, which is ideal for mounting from the ceiling of conferences venues, meeting rooms, board rooms and other small to mid-sized spaces.
Outstanding audio quality
Slim, elegant Scandinavian design
Highly directional – very isolated
High rejection of radio frequency interference
Meets the needs of architects, AV consultants, system integrators and installing electricians
This solution can be scaled up as needed. In smaller rooms you might only need one microphone to capture the best sound. In larger settings, you can use multiple mics to ensure each area of the room is completely covered. The best audio quality is obtained in a one-to-one solution – one microphone position close to one speaker.
Speech intelligibility - low noise
With very low noise and a high sensitivity, our ceiling and tabletop microphones offer the most clear, transparent, and natural sound available on the small footprint mic market. They ensure maximum speech intelligibility regardless of the acoustical environment. With a linear response, low distortion and an extremely large dynamic range, they sound great in any environment.
The Microphone Base is made specifically to work with the 4098 CORE Supercardioid Podium Microphone. It has an elegant yet unobtrusive design with a white, non-reflective surface and integrated shock mount. The audio cables are an integral part of the Microphone Base unit.
The Microphone Base fits most electrical back boxes and secures ease of installation. Furthermore, the great off-axis response and the physics of sound level vs distance, makes it possible to cover a small to mid-size room with only one or a few microphones. Read more about microphones in installed systems.
DPA 4098 Frequency Response: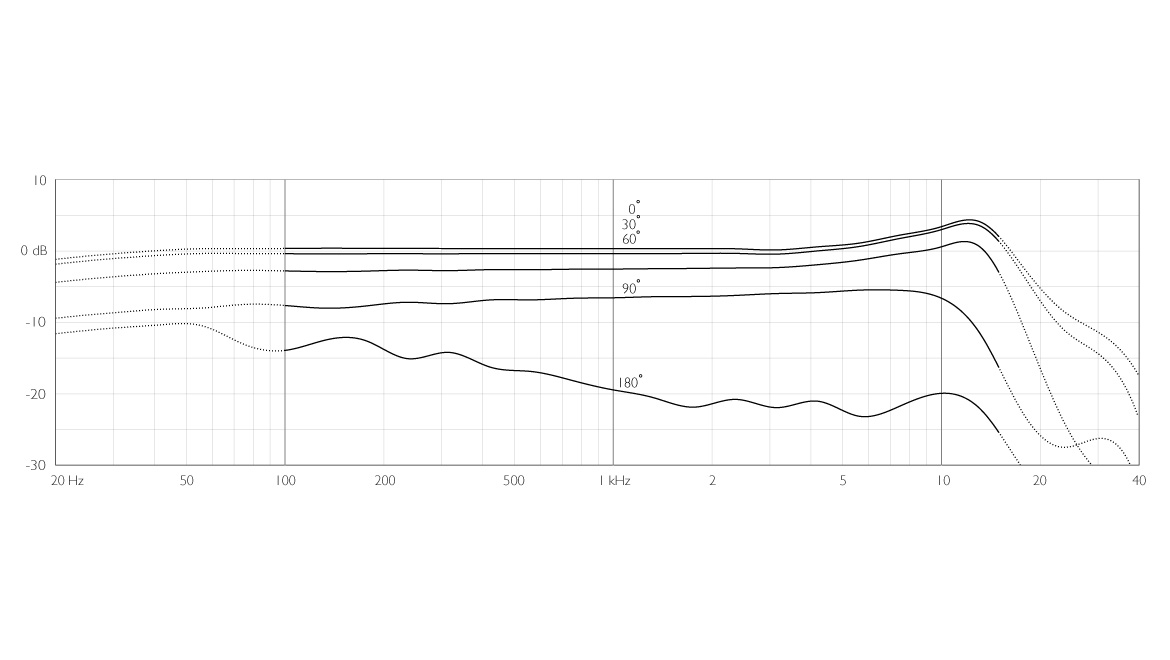 Typical on and off-axis response of a DPA 4098
DPA 4098 Polar Pattern: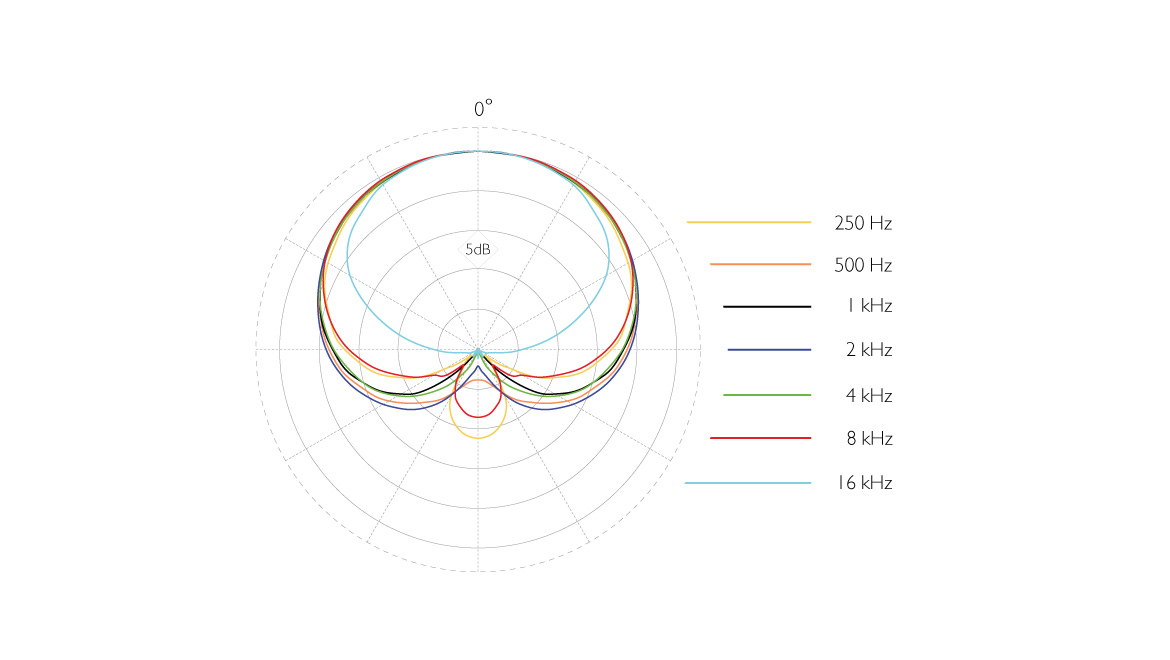 Typical directional characteristics of DPA 4098
1x DPA 4098 CORE Supercardioid Ceiling Mic, 16 cm (6 in, White, unterminated, P48
1x Foam Windscreen
1x Microphone Base
Directional Pattern:
Supercardioid
Principle of operation:
Pressure gradient
Cartridge type:
Pre-polarized condenser
Frequency response:
20 Hz - 20 kHz
Dynamic range:
Typ. 110 dB
Connector:
Unterminated
Effective frequency range ±2 dB, at 20 cm (7.9 in):
MicroDot: 80 Hz - 15 kHz with 3 dB soft boost at 8-15 kHz
XLR-3M: 100 Hz - 15 kHz with 3 dB soft boost at 8-15 kHz and permanent 2nd order low-cut filter at 80 Hz
Sensitivity, nominal, ±3 dB at 1 kHz:
16 mV/Pa; -36 dB re. 1 V/Pa
Equivalent noise level, A-weighted:
Typ. 23 dB(A) re. 20 µPa (max. 26 dB(A))
Equivalent noise level, ITU-R BS.468-4:
Typ. 35 dB (max. 38 dB)
Distortion, THD < 1%:
130 dB SPL RMS, 133 dB SPL peak
Max. SPL, THD 10%:
135 dB SPL peak
Rated output impedance:
From MicroDot: 30 - 40 Ω. From XLR connector or DAD6001-BC XLR Adapter: 100 Ω
Minimum load impedance:
2 kΩ
Cable drive capability:
MicroDot: Up to 300 m (984 ft) with DAD6001-BC XLR Adapter
XLR-3M: Up to 100 m (328 ft)
Output balance principle:
Signal balanced with XLR connector or DAD6001-BC XLR Adapter
Common mode rejection ratio (CMRR):
> 60 dB from 50 Hz to 15 kHz with DAD6001-BC XLR Adapter
Power supply (for full performance):
MicroDot: Min. 5 V to max. 10 V through DPA adapter for wireless systems or
P48 (Phantom Power) with DAD6001-BC XLR adapter
XLR-3M: P48 (Phantom Power)
Current consumption:
Typ. 1.5 mA (microphone). 3.5 mA with DAD6001-BC XLR Adapter
Polarity:
+V at MicroDot pin for positive sound pressure (and pin 2 on XLR connector or DAD6001-BC XLR adapter)
Microphone diameter:
5.7 mm (0.22 in)
Microphone length:
Microdot: 16 cm (6 in), 28 cm (11 in), 43 cm (17 in), 77 cm (30 in), 122 cm (48 in)
XLR-3M: 20 cm (8 in), 32 cm (13 in), 47 cm (18 in), 77 cm (30 in), 122 cm (48 in).
Temperature range:
-40°C to 45°C (-40°F to 113°F)
Relative humidity (RH):
Up to 90%
Related products