DPA 4099 CORE Mic, Extreme SPL with Clip for Drum
4099-DC-2-201-D
5713055015213 The 4099 CORE for Extreme SPL perfectly captures the booming sounds of drums and percussion instruments. Users will appreciate how gently this condenser mic adheres to their prized instrument. The mic can be easily positioned to fit different types of drums. The flexible gooseneck can be positioned at different angles to allow a variety of sound nuances. The mic is elegant, lightweight, unobtrusive and designed to stay out of the way during performances.
Let your instrument choose the mic
The 4099 CORE was designed to get the best performance out of your instrument, so make sure you choose the correct version. We have created clips and mounts to fit a wide range of popular instruments. Even if your instrument is not listed below, there is probably a solution that will meet your needs.
The true voice of your instrument
The 4099 Instrument Microphone is already the recognized standard for this type of microphone and the CORE version adds just another layer of sound quality that further distances this mic from its competitors. 4099 brings more clarity and details to your music, across the entire dynamic range. Anyone looking for the very highest sound quality should choose CORE by DPA – every musician, live sound engineer and anyone else who takes pride in quality audio.
CORE by DPA technology inside
Supercardioid condenser microphone
Handles high SPLs
Superior gain-before-feedback
Flexible and easy mounting
Gentle and easy to mount on the instrument
Detachable cable and a versatile gooseneck extender
Both the Loud- and Extreme-SPL versions of the 4099 CORE have a supercardioid polar pattern for high rejection and superior gain-before-feedback. The mic also retains a uniform off-axis frequency response to ensure a high-energy, clear live performance. The 4099 CORE also features an enhanced shock mount design, providing excellent isolation from handling noise and rumble. Cables are available in heavy duty or lightweight versions, depending on the application – both are designed to withstand the rigors of daily use. A versatile, integrated gooseneck extender provides easy and repeatable mounting..
Now with CORE by DPA technology
CORE by DPA is a powerful new technology at the heart of DPA miniature microphones. We've minimized distortion. From pianissimo to forte, you will experience increased clarity and openness. Learn more about CORE by DPA.
From the piano to guitar; strings to woodwinds; brass to percussion, the 4099 Series sounds equally impressive on them all. This one microphone model can beautifully reinforce an entire orchestra. You can move the mic to another instrument; just make sure you have the right type of clip to mount it correctly.The award-winning 4099 Series gives you a much more natural sound than any clip-on microphone or pickup. This condenser microphone rejects unwanted noise and accurately captures the true voice of your acoustic instrument.
DPA 4099 - Frequency response: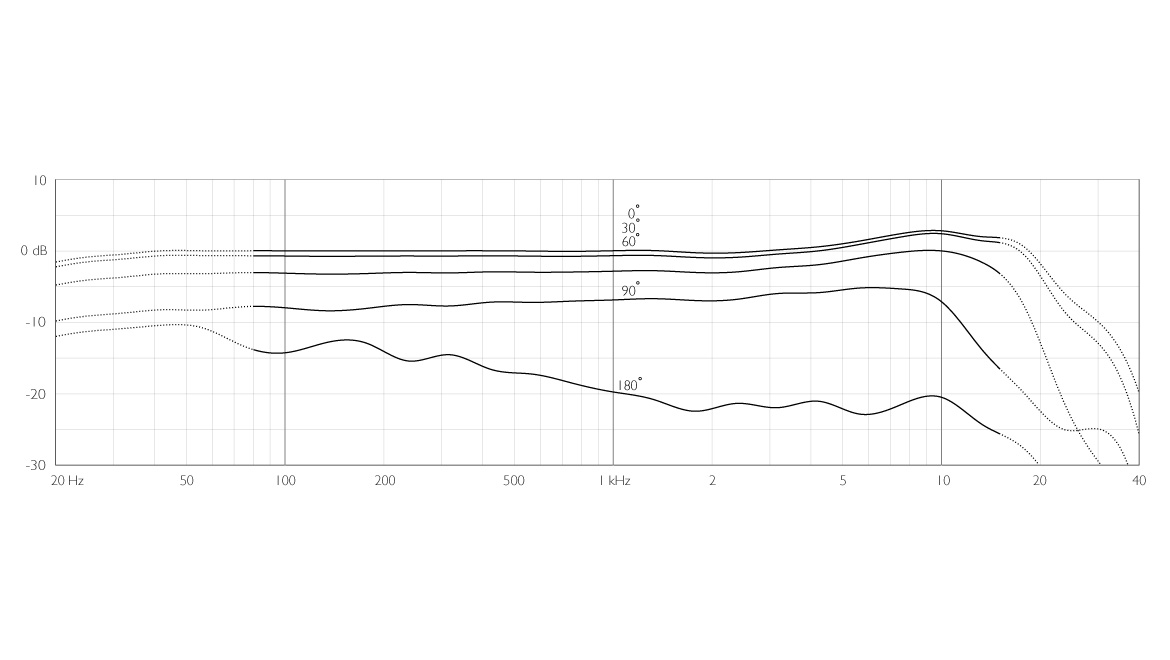 Typical on and off-axis response of a 4099
DPA 4099 - Polar Pattern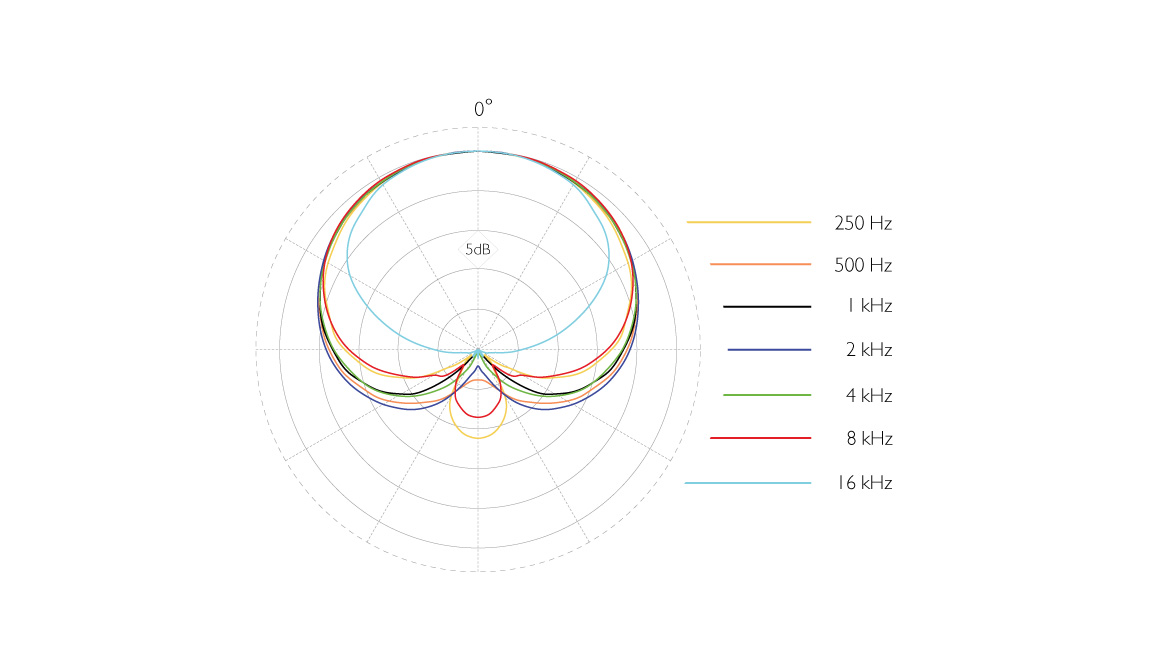 Typical directional characteristics of a 4099
Directional Pattern:
Supercardioid
Principle of operation:
Pressure gradient
Cartridge type:
Pre-polarized condenser
Frequency response:
20 Hz - 20 kHz
Dynamic range:
Typ. 109 dB
Instrument:
With Clip for Drum - Extreme SPL
Effective frequency range ±2 dB, at 20 cm (7.9 in):
80 Hz - 15 kHz with 2 dB soft boost at 10-12 kHz
Sensitivity, nominal, ±3 dB at 1 kHz:
2 mV/Pa; -54 dB re. 1 V/Pa
Equivalent noise level, A-weighted:
Typ. 28 dB(A) re. 20 μPa (max. 31 dB(A))
Distortion, THD < 1%:
134 dB SPL RMS, 137 dB SPL peak
Max. SPL, THD 10%:
152 dB SPL peak
Rated output impedance:
From MicroDot: 30 - 40 Ω. From DAD4099-BC or DAD6001-BC: 100 Ω
Cable drive capability:
Up to 300 m (984 ft) with DAD6001-BC/DAD4099-BC XLR Adapter
Output balance principle:
Signal balanced with DAD4099-BC or DAD6001-BC XLR Adapter
Common mode rejection ratio (CMRR):
> 60 dB from 50 Hz to 15 kHz with DAD4099-BC or DAD6001-BC XLR Adapter
Power supply (for full performance):
For wireless systems Min. 5 V - max. 10 V through DPA adapter
With DAD6001-BC or DAD4099-BC: P48 (Phantom Power). Will work from 12 V
Current consumption:
Typ. 1.5 mA (microphone). 3.5 mA with DAD4099-BC or DAD6001-BC XLR Adapter
Polarity:
+V at MicroDot pin for positive sound pressure (and pin 2 on DAD4099-BC or DAD6001-BC XLR adapter)
Microphone diameter:
5.7 mm (0.22 in)
Microphone length:
45 mm (1.8 in)
Cable length:
1.8 m (5.9 ft)
Cable diameter:
1.6 mm (0.06 in) / 2.2 mm (0.09 in)
Temperature range:
-40°C to 45°C (-40°F to 113°F)
Relative humidity (RH):
Up to 90%
Gooseneck length:
140 mm (5.5 in)
Related products