DPA 4011ES Stereo Kit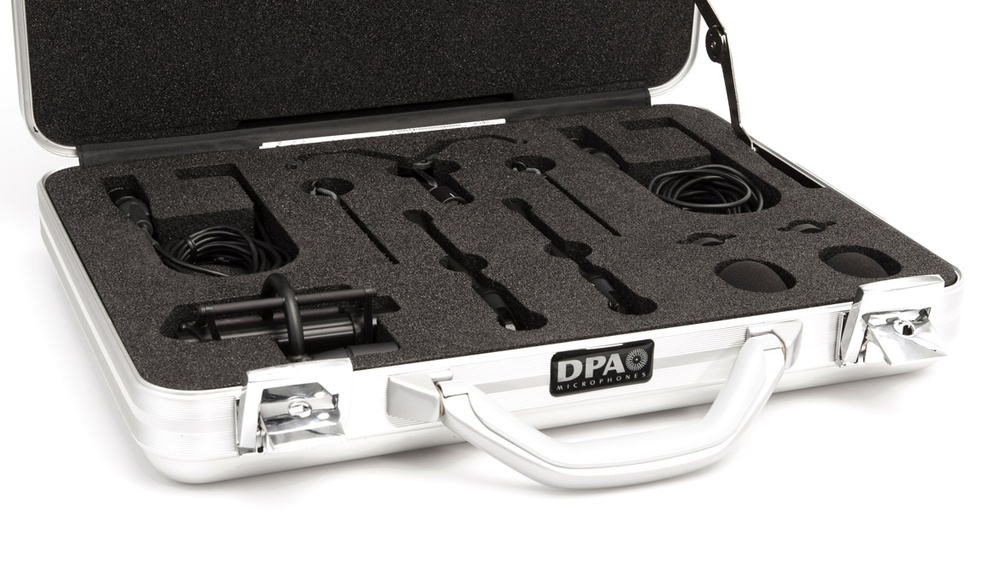 Matched DPA 4011ES Stereo Kit
A complete stereo kit with two compact 4011ES Cardioid Microphones, with active side cables. The mics are carefully factory-matched within ±1 dB on frequency response and sensitivity in the microphone's entire frequency bandwidth. The kit includes mics, windscreens, holders, clips, and much more.
Modularity – interchangable capsules and preamplifiers
Up to 120 dB dynamic range
RF rejection between >60 and >40 dB
Linear frequency response
High SPL
Superior gain before feedback
Ideal for unobtrusive spot miking, such as hanging or table use, the 4011ES Cardioid Microphone, Active Cable is an ultra-compact cardioid microphone from our modular recording mic series. The mic has a length of only 3.5 cm (1.4 in) and a low-key appearance.
The mic features an integrated cable solution. This allows it to be hung from the ceiling and create precise and repeatable positions and angles when spot miking orchestra sections or ambience atmospheres.
The principal appeal of the 4011 Cardioid Microphone is its directional quality and attention to detail. This mic makes everything sounds like the original. The first-order cardioid pickup pattern provides superb separation between sound sources.
It is equally suitable for close-up work on acoustic guitar, grand piano, overheads, percussion, wind instruments and vocals as it is for spot-miking symphonies. It can handle incredibly high sound levels.
A flat on-axis frequency response and excellent phase response deliver a totally faithful reproduction of the original sound. The off-axis response is similarly smooth so that any leakage is an accurate reflection of the original, though attenuated according to the true first-order cardioid pickup pattern.
2x Foam Windscreens
1x Extension Pole
2x Gooseneck Mounts
2x Magnet Bases
2x Suspension Mounts
2x Clip for MMP-E
| | |
| --- | --- |
| Directional Pattern: | Cardioid |
| Principle of operation: | Pressure gradient |
| Cartridge type: | Pre-polarized condenser |
| Frequency response: | 20 Hz - 20 kHz |
| Dynamic range: | Typ. 121 dB |
| Effective frequency range, ±2 dB, at 30 cm (11.8 in): | 40 Hz - 20 kHz |
| Sensitivity, nominal, ±2 dB at 1 kHz: | 10 mV/Pa; -40 dB re. 1 V/Pa |
| Equivalent noise level, A-weighted: | Typ. 18 dB(A) re. 20 µPa (max. 20 dB(A)) |
| Equivalent noise level, ITU-R BS.468-4: | Typ. 25 dB |
| Distortion, THD < 1%: | 136 dB SPL RMS, 139 dB SPL peak |
| Max. SPL, THD 10%: | 144 dB SPL peak |
| Minimum load impedance: | 2 kΩ |
| Rated output impedance: | 100 Ω |
| Cable drive capability: | 100 m (328 ft) |
| Output balance principle: | Impedance balancing |
| Common mode rejection ratio (CMRR): | > 40 dB |
| Power supply (for full performance): | P48 (Phantom Power) |
| Current consumption: | 3.5 mA |
| Maximum output voltage, RMS: | 2.2 V |
| Polarity: | +V at pin 2 for positive sound pressure |
| Matching tolerance (frequency response and sensitivity): | ±1 dB |
| Phase deviation for kit: | < 10° |
| Weight: | 109 g (3.8 oz) |
| Microphone diameter: | 19 mm (0.75 in) |
| Capsule diameter: | 19 mm (0.75 in) |
| Microphone length: | 35 mm (1.38 in) |
| Temperature range: | -40°C to 45°C (-40°F to 113°F) |
| Relative humidity (RH): | Up to 90% |