Royer Labs R-121 Ribbon Microphone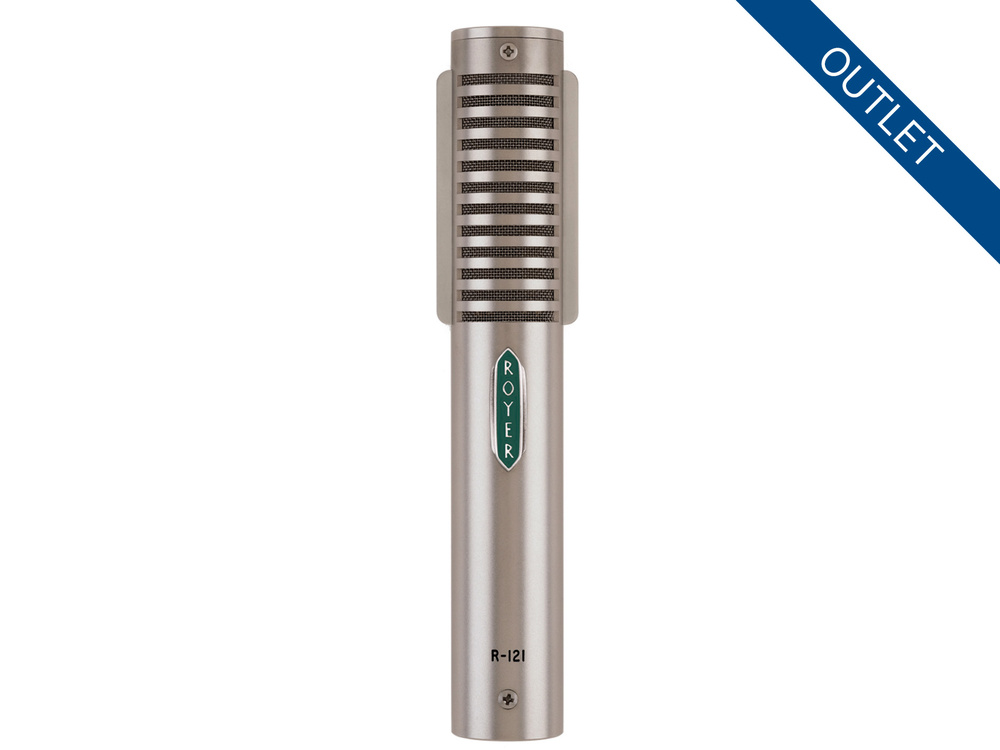 NPA_OUT_013 Condition - New! - Only 2 in Stock
Released in 1998, the award-winning R-121 is our flagship microphone; the world's first radically reengineered ribbon microphone and the model that reintroduced ribbon mics to engineers around the world.
Features:
High SPL Capabilities
No internal active electronics to overload or produce distortion up to maximum SPL rating
Extremely low residual noise
Ribbon element is not affected by heat or humidity
Absence of high frequency phase distortion
Equal sensitivity from front or back of element
Consistent frequency response regardless of distance
Like many of the best classic ribbon mics, the R-121 has a figure-8 pattern, output level comparable to a dynamic mic, and a warm, realistic tone and flat frequency response. But that's where the similarities end. By using advanced materials and a blend of cutting edge and old-school, hand-build construction techniques, the R-121 is an extremely versatile and user-friendly ribbon mic that can stand up to the most demanding tasks. Cranked up electric guitars, close up brass, drums – you name it, the R-121 will help you record it with realism you have to hear to believe.
Applications:
Electric Guitar Amps
Brass Instruments
Horn Sections
Drum Rooms
Kick Drum
Woodwinds
Percussion Instruments
Acoustic Piano
Acoustic Guitar
String Instruments & Sections
Choirs & Orchestras
Commercial Broadcast
1x Royer Labs R-121 Ribbon Microphone
Acoustic Operating Principle: Electrodynamic pressure gradient
Polar Pattern: Figure-8
Generating Element: 2.5-micron aluminum ribbon
Magnets: Rare Earth Neodymium
Frequency Response: 30 -15,000 Hz +/- 3dB
Sensitivity: -47 dBv Re. 1v/pa
Output Impedance: 300 Ohms @ 1K (nominal)
Rated Load Impedance: >1500 Ohms @ 300 Ohms
Maximum SPL: >135dB @ 20 Hz
Output Connector: Male XLR 3 pin (Pin 2 Hot)
Dimensions: 155.7mm L, 25mm W (6.13" L, 1" W) Weight: 244g (8.6 oz) Finish: Dull Satin Nickel/Matte Black Chrome optional