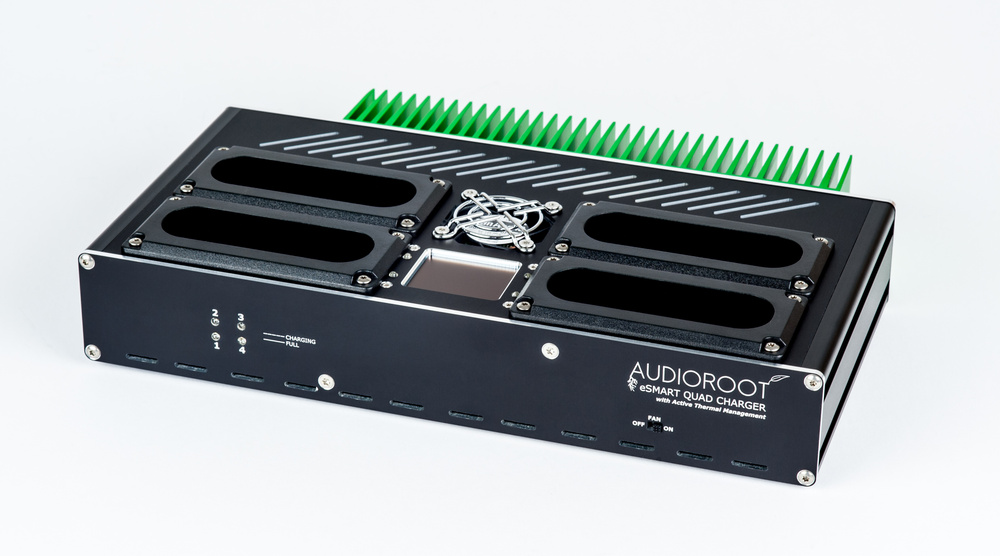 4 Bay desktop smart battery simultaneus chartger
The eSMART QUAD CHARGER is the latest addition to our eSMART chargers product line. The unit is powered directly through mains AC and features a 160×128 pixels OLED screen and PWM controlled fan.
Thermal behavior of the charger is automatically monitored and controlled through an Active Thermal Management system. This system uses fan speed or charging current to ensure the quietest and coolest operation possible. When users choose the fan based cooling of the unit the fan's speed is automatically controlled by the charger's internal temperature. Users can disable the fan's operation with a switch located on the charger's front panel. Once the fan is disabled the integrated micro-controller will adapt the charger's maximum charging current to reduce heat generation inside the unit.
1x Audioroot eSmart QUAD Charger - Smart battery charger with OLED display
Maximum charging current per bay : 2.0A

160×128 pixels full color OLED screen

Ultra quiet (10dBA min / 28dBA max) ON/OFF switchable and PWM controlled fan

All anodized aluminum CNC machined and extruded enclosure with laser engraving

90-240V AC input / 150W

IEC C14 power input connector

Weight : 1.6Kg

Dimensions : 270 x 176 x 53mm

OLED display informations :

Battery capacity (%)

Charging current
Charging/battery voltage
Battery temperature -Battery cycle count