K-Tek Stingray Junior X Purple Audio Mixer Recorder Bag X-Series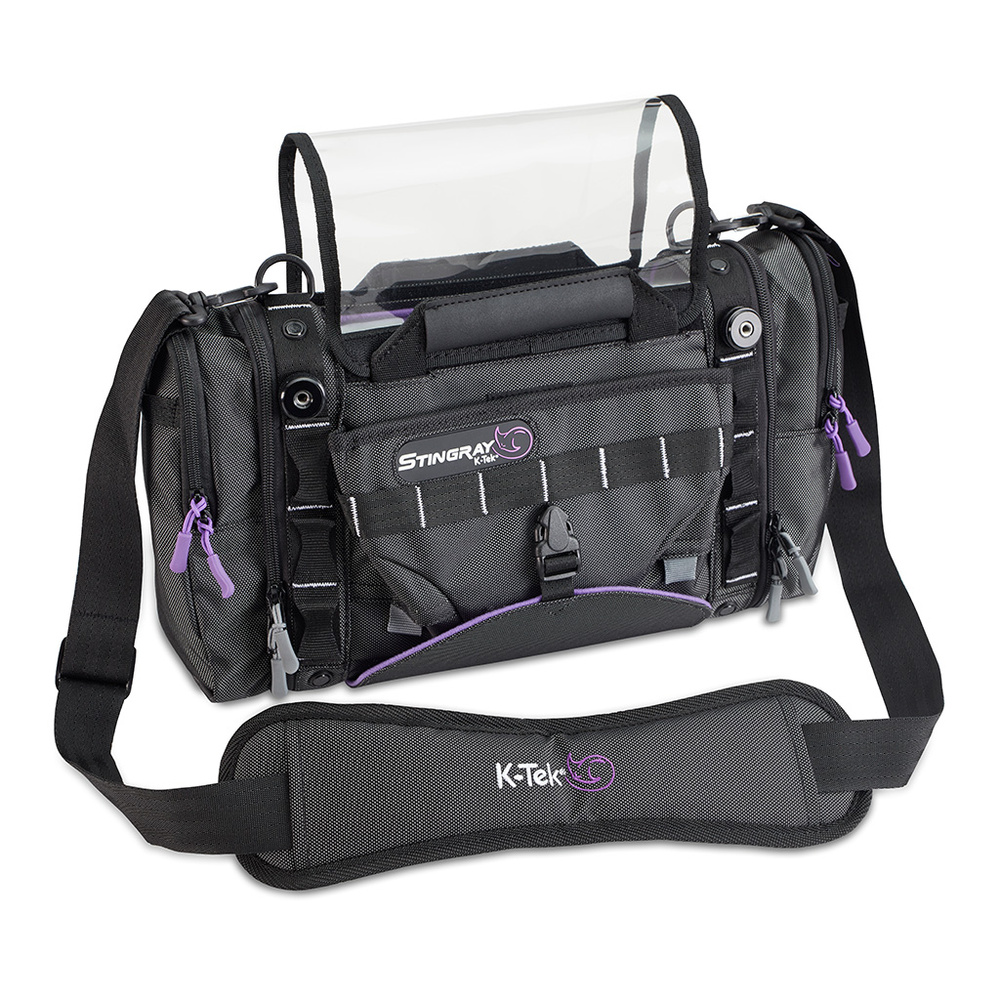 K-Tek is celebrating their 25th anniversary with a Limited Edition Stingray Junior X Purple Bag
To celebrate K-Tek's 25th anniversary in 2021, the Stingray Junior X Purple bag is identical to the orange K-Tek Stingray Junior X Audio Bag, but features a purple interior.
Works with:

Sound Devices 633
Zaxcom Maxx and many other mixer recorders

Rigid internal vertical frame for strength and stability
Side Pockets large enough to hold NP batteries with cup adapters
Bottom trap door for fast access and convenience
Built in kick-stand for table mixing
Collapsible front pocket with Molle Straps and hard protective front
Comes with Clear Shield, all-weather protection stealth bag and Shoulder Strap
It is designed for compact recording packages where mobility and transportability is of highest concern.
Stingray Junior-X: Versatile with Kickstand
The most popular feature from the previous Stingray Jr bag was the Kickstand. With small adjustments the Kickstand is now even better on the Jr-X bag. Conveniently lean the bag back for clear visibility and access while sitting at a table or similar. The Kickstand is permanently attached and easily stores folded up on rear outside of the bag when not in use.
Stingray X-Series: Reinforced Frame with threaded Attachment Points
The reinforced and strengthened vertical frame structure protects the equipment now even better. Additional to allowing the bag to better stand on its own, it gives full access to the sides and bottom of the mixer recorder to access connectors and media.
Additionally, accessories like shark-fin antennas and many other accessories can now be attached via two solid, threaded attachment points directly to the frame structure of the bag. These two attachment points each feature a 1/4-20 Female and 3/8-16 Male threads.
Roomy Interior with lots of cabling options
The large trap door on the bottom and zippered side access panels complements the accessibility offered by the frame design and further ease setup, cabling, and battery swaps. The premium zipper tags are now color coded for your convenience. Large side pockets offer plenty of room to store NP and other large battery packs. Generous pass-throughs allow cable routing from and to the main compartment. A separate front compartment is protected by a rigid front panel and can be expanded or closed tight. Velcro pockets close the bottom sides of the front compartment while allowing for cabling access to the exterior of the bag. Various cable pass-through locations and smart storage points prove the versatility of the Stingray Junior X bag to various equipment choices and recording environments.
This makes the Stingray Jr X Bag a small bag from the outside, but a roomy and versatile bag on the inside.
Webbing loops, Molle straps and the threaded attachment points offer plenty of rigging points for additional accessories like Gizmo pouches, TX/RX units, magic arms and even mobile phone/Tablet holders. D-Rings allow the Stingray KSTGJRX bag to be attached to harnesses and waist belts. It is a perfect companion for the optional K-Tek Waistbelt and is fully compatible with the Stingray Harness.
1x Stingray Junior X-Series bag - Purple Interior
1x Shoulder Strap
1x Clear shield
1x All-Weather protection stealth Bag
Related products