K-Tek Stingray Large X Audio Mixer Recorder Bag X-Series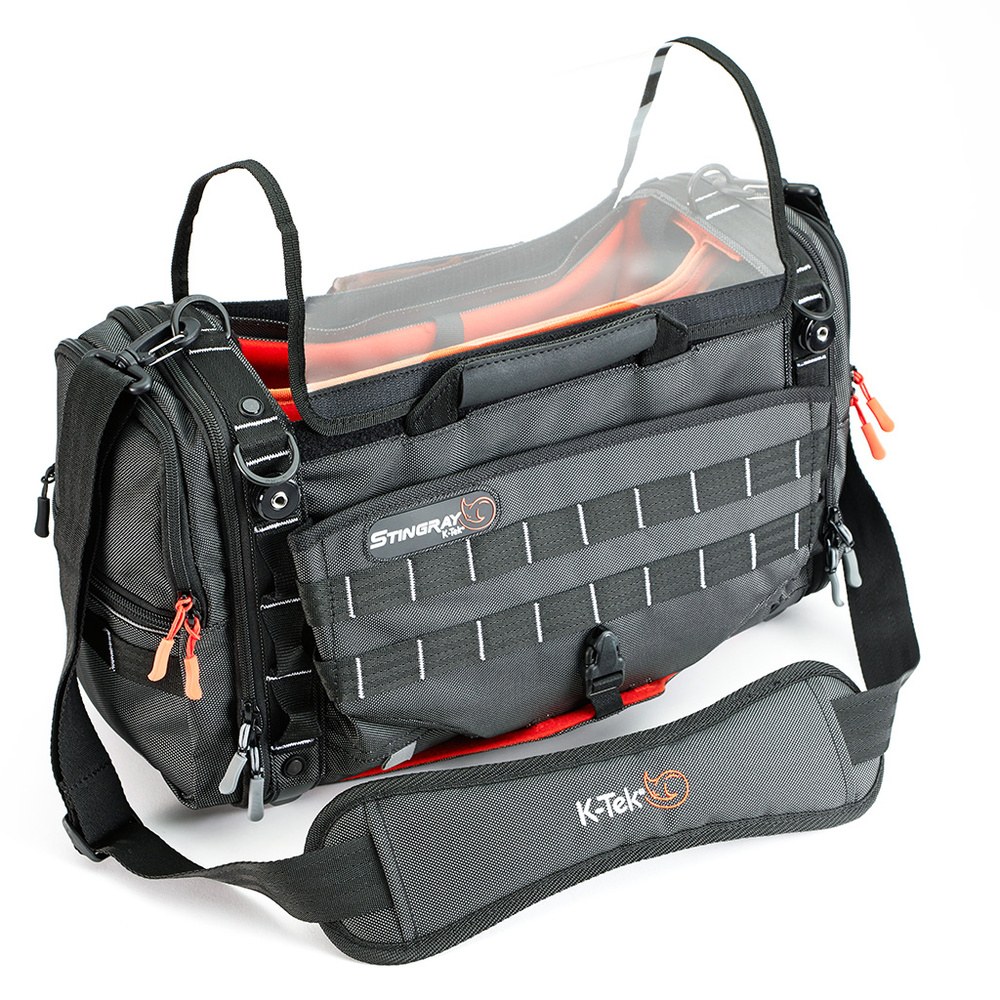 The Stingray Large X is the latest bag in the third generation of Stingray Mixer bags – the Stingray X-Series:
Works with:

Sound Devices Scorpio (inl. SL2)
Sound Devices 788T, 664, 668 (incl. CL6 & SL6)
Zaxcom Nomad and many other mixer recorders (see specs)

Removable Kickstand (included)
Two threaded attachment points (1/4-20 Female & 3/8-16 Male) for antennas/accessories
Reinforced internal vertical frame for strength and stability
Color-coded Zippers
RF Shielded and adjustable center divider
Stingray X Series: now even better!
The most visible upgrade to the Stingray Large X bag is a comprehensive facelift. Featuring a new 1680D durable polyester fabric the X bags are reinforced with 3 layers of water repellent polyurethane. The KSTGLX bag is meant for productions using full-sized audio mixer recorders. The design was optimized to work with the newest mixers like the Sound Devices Sound Devices Scorpio (inl. SL2), 788T, 664, 668 (incl. CL6 & SL6) and the Zaxcom Nomad. It is also well-suited for many similar sized mixer recorders .
Stingray Large-X: Now with Kickstand
The most requested update from the previous Stingray Large bag was a Kickstand. We are excited to announce that a Kickstand is included with every KSTGLX. Now you can conveniently lean the bag back for clear visibility and access while sitting at a table or similar. The X-Kickstand is removable and easily stores within the bag when not in use.
Stingray X-Series: Reinforced Frame with threaded Attachment Points
The reinforced and strengthened vertical frame structure protects the equipment now even better. Additional to allowing the bag to better stand on its own, it gives full access to the sides and bottom of the mixer recorder to access connectors and media. Additionally, accessories like sharkfins and many other accessories can now be attached via two solid, threaded attachment points directly to the frame structure of the bag. These two attachment points each feature a 1/4-20 Female and 3/8-16 Male threads.
Roomy Interior with lots of cabling options
The large trap door on the bottom and zippered side access panels complement the accessibility offered by the frame design and further ease setup, cabling, and battery swaps. Large side pockets offer plenty of room to store NP and other large batteries. Generous pass-throughs allow cable routing from and to the main compartment. A separate front compartment is protected by a rigid front panel and can be expanded or closed tight. Velcro pockets close the bottom sides of the front compartment while allowing for cabling access to the exterior of the bag. Various cable pass-through locations and smart storage points prove the versatility of the Stingray Large bag to various equipment choices and recording environments. This makes the Stingray Large X Bag a compact bag from the outside, but a roomy and versatile bag on the inside. Webbing loops, Molle straps and the threaded attachment points offer plenty of rigging points for additional accessories like Gizmo pouches, TX/RX units, magic arms and even mobile phone/Tablet holders. D-Rings allow the Large Stingray bag to be attached to harnesses and waist belts. It is a perfect companion for the optional K-Tek Stingray Harness.
1x K-Tek Stingray Large X Audio Mixer Recorder Bag - Orange Interior

1x Shoulder Strap

1x Clear shield

1x Removable Kickstand

1x All-Weather protection stealth Bag
Related products