URSA Belt Pouches Medium - Beige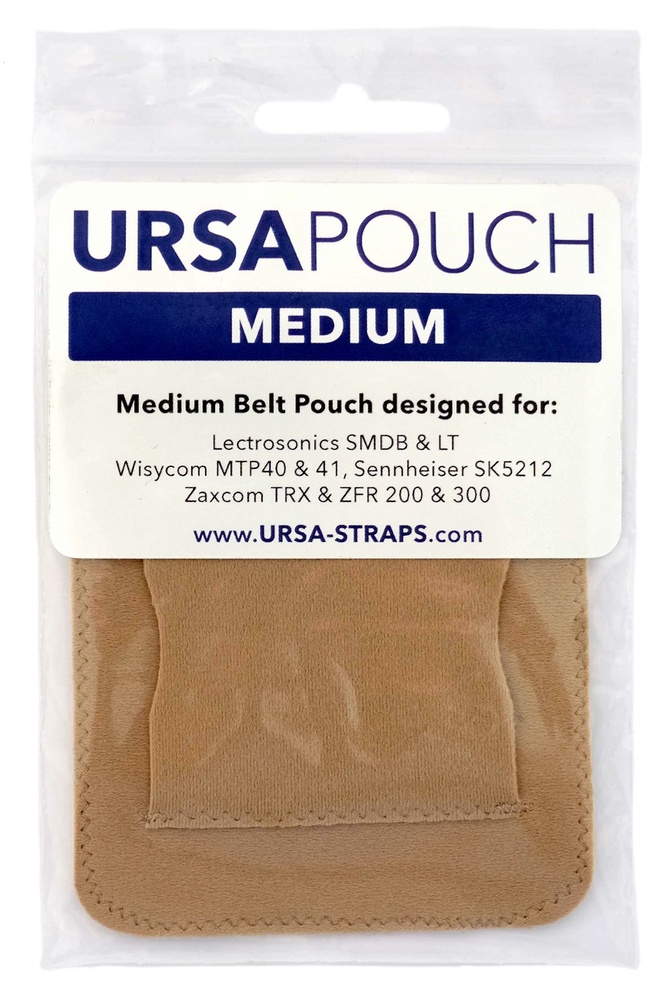 U-POUCH-MED-BE
5060652651284 MEDIUM POUCH FITS:
Lectrosonics SMDB, SMQV & LT
Sennheiser SK5212
Shure ADX 1M
Wisycom MTP 40 & 41
Zaxcom TRX & ZFR 200 & 300
Medium Pouch Size: 86x75mm
WHATS INCLUDED:
1x URSA Belt Pouch MEDIUM (beige)
URSA Belt Pouches with Clips
URSA Pouches are low-profile soft pouches which allow you to rig a transmitter vertically or horizontally to URSA Belts, standard belts or bras. They can also be sewn or pinned into costumes. They can also be rigged on the inside of helmets, used as IEM pouches or just as soft protection if placing transmitters in the pocket. Available in Four Sizes & Two Colours Black & Beige
New Fabric Technology.
In order to make the most comfortable low-profile Pouches we developed a brand new bonded fabric. URSA Pouches are just 1mm thick. They provide excellent stretch, comfort & breathability with an outer surface that hook Velcro can grip to at any point.
URSA Belt Pouches now come with a free removable Clip. These allow you to clip the pouch to any garment and hang it vertically or horizontally. Watch the Demo video here.
URSA Straps are Machine Washable at 40 degrees
Quick tips for cleaning your URSA Straps HERE
Hang dry or Tumble dry at a low temperature.
All our straps are manufactured by hand in the United Kingdom.