Accsoon Cineeye 2 Portable Wireless WIFI Video Transmitter with HDMI Input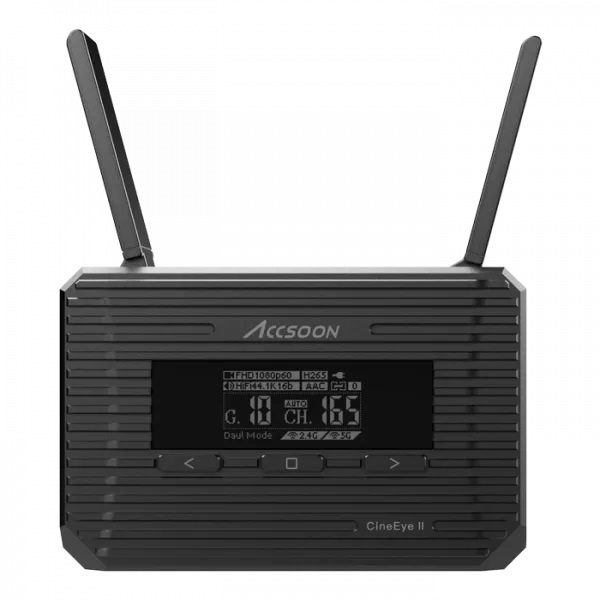 Wireless WIFI Video Transmitter with HDMI Input
Accsoon CineEye 2 is a compact wireless WiFi video transmitter that simultaneously transmits up to a 1080p/60fps video signal from an HDMI source to four iOS/Android mobile devices such as smartphones and tablets. It supports a longer transmission distance of 500ft, lower latency of 60ms, a choice of up to 20 wireless channels, power via an NP-F series battery, and the addition of an HDMI loop output to add an additional monitor that can be daisy-chained to other monitors.
Transmission Range up to 500ft/150m
CineEye 2 can cover you range-wise for most shooting applications without range issues, as long as you're not storing your clients or crew half a kilometre away or in the sub-basement, you should be fine.
One Transmitter for 4 Devices
With CineEye 2 wireless video transmitter, you can use up to 4 devices to monitor at the same time, which helps you to keep the whole crew in the loop while shooting. Whether you are a videographer, crewmember or makeup artist, you will get a chance to monitor the real-time images.
HDMI In and HDMI Loop-out
CineEye 2 wireless video transmitter features one HDMI in and one HDMI loop out. For HDMI loop out, you can use it to output video to monitor on the camera or connect recorder, light, and live stream equipment, which helps the videomaker equip more accessories on the gimbal.
HD and Noiseless
With CineEye 2, beautifully clear images are transmitted with almost no delay at up to 1080P/60 and noiseless audio is transmitted through 44.1KHz/48KHz 16bit/24bit. CineEye 2 also has no fans inside, ensuring zero fan noise and a complaint-free sound department.
Professional Monitoring App – Accsoon GO
Accsoon GO features a majority of functionality tools such as greyscale, RGB, histogram, waveforms, focus peaking, grids, as well as audio and video recording in the App. It also has LUTs and you can install your LUTs onto the device. There's more functionality built into this app as a monitor than some dedicated monitors.
Compact size, low power consumption
CineEey 2 is a real pocket video transmitter features very low power consumption, a single NP-F970 battery can last you 14 hours.
1.3 inch OLED Screen
CineEye 2 is equipped with a clear OLED screen, which is easy to check input video and audio info, battery level, connection status, WiFi signal and channel selection. All information at a glance.
1x Accsoon Cineeye 2 Portable Wireless WIFI Video Transmitter
Video Input - HDMI
Video Output - HDMI
Video Format

1080p - 23.98/24/25/29.97/30/50/59.94/60fps
1080i - 50/59.94/60fps
720p 50/59.94/60fps
480p 59.94/60fps

Audio - 44.1KHz/48KHz 16bit/24bit PCM
Latency - <0.06 seconds ( Camera latency not included)
OLED - 1.3 inch OLED
Transmission Power - 17~20dBm
Transmission Range - 152 meters (no obstacles, no interference)
Power Consumption - 3.5 Watt (Typical)
Operating Temperature - -10~40℃
Dimensions - 108mm×68.5mm×30mm(Antenna not included)
Weight - 200g