Accsoon Cineeye Power Cage for iPad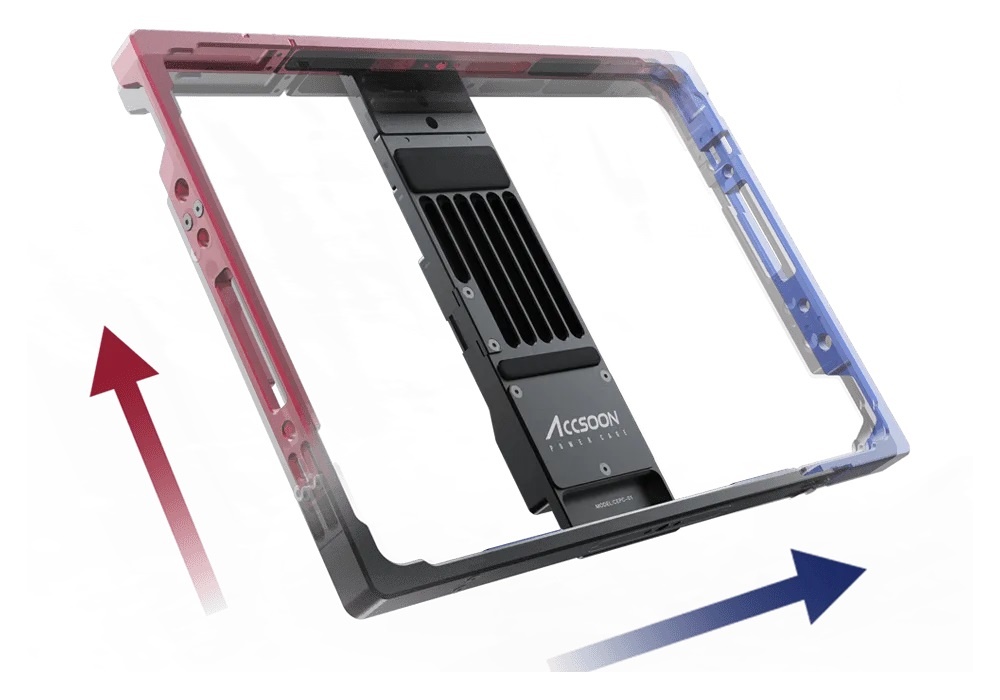 Accsoon Power Cage portable iPad cage.
It's compatible with almost any iPad, iPad Air and iPad Pro. During the shooting, Power Cage can keep your iPad safe, charge your iPad through the external NP-F series battery and make your iPad become more convenient for handheld and mounting. Power Cage can work with Accsoon's wireless video transmission system seamlessly for monitoring.
Supports 9 Models of iPad
With power cage, it can help you achieve to support iPad models as many as possible.
iPad Pro 10.5-inch
iPad Air (3rd & 4th generation)
iPad (7th, 8th, 9th generation)
iPad Pro 11-inch (1st, 2nd, 3rd generation)
Adjustable Design
Power Cage utilizes an adjustable sliding frame design, the internal dimensions are length: 250mm-260mm and width: 170mm-180mm, which is a good solution for directors,1st AC, gaffers, makeup artists, and anyone else who needs to use an iPad on-set.
Protect Your iPad From Damage
Protects iPad from accidental damage from high fall, and accidental bending under heavy-weight. CNC cutting and anodic oxidation treatment are used within this power cage.
Charge with NP-F battery
Power Cage has an NP-F battery clip at back. You can use it to charge your iPad during the shooting process, and you can even use the battery to stand your iPad.
1/4-20″ Screw Interface
There are 1/4-20″ mounting holes on each side, as well as the back of the cage, so you can attach other accessories to the iPad or mount the iPad to a light holder or camera, etc.
Keep your battery and iPad safe
Power Cage Pro is equipped with a battery lock button that effectively prevents the battery from slipping off the back of the iPad accidentally.
Built-in charging protection function
This cage offers built-in charging protection while connected to the power input of the iPad via the included USB-C or lightning type cable.
1x Accsoon Powercage
1x USB-C Charge Cable
1x Lightning Charge Cable
1x 2mm L Wrench
4x M2.5x5 Screw
Dimensions ( Size Adjustable) :

Length: 297.5mm-289mm
Width: 214mm-224mm
Thickness: 30.5mm
Net Weight: 420g

Compatibility - iPad Pro 12.9-inch (3rd, 4th, 5th generation)
Material - Aviation Grade Aluminum Alloy
Processing Technology - CNC Integrated Cutting, Anodic Oxidation Treatment
Supported Battery Type: - NP-F 550/750/970 Battery
USB-A Output: - DC 5V/3A
Interfaces: - 1/4-20″Screw ; USB-A