GENELEC F Two - Active subwoofer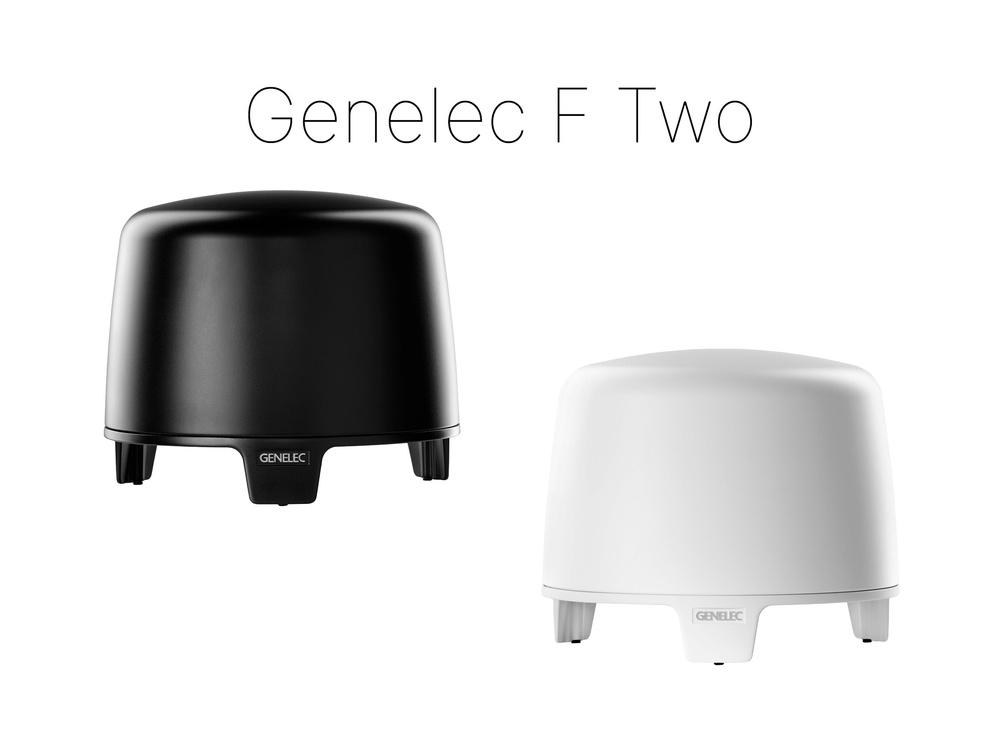 Tailored performance
The F Two compact subwoofer is designed to complement G Series speakers up to and including the G Four, offering extended, controlled low frequency performance and award-winning aesthetic design. The F Two is a little larger than its F One sibling and as a result can extend right down to 27 Hz with a maximum SPL of 103 dB. It shares the F One's precise, controlled characteristics, with onboard room response controls and bass management enabling you to precisely tailor the performance of your system to your room, allowing your main speakers to focus more efficiently on the rest of the frequency spectrum.
Features:
SPL - 103 dB
Frequency Response - 27 Hz - 85 kHz (-6 dB)
Connections

1x Toslink S/PDIF Input
1x RCA S/PDIF Input
1x 3.5mm jack Analog Input
3x CA Analog Input
2x RCA Analog Output
The ultimate hub
The newly upgraded F Two also features analogue plus optical and coaxial digital inputs, automatic input detection and a range of remote control options - making it the ultimate hub for your home audio system. The system playback level can then be conveniently controlled by the F Two's wireless volume control, plus the F Two is also capable of learning IR remote control commands and supporting an optional wired volume control.
1x F Two subwoofer
1x Mains power cable 1,8 m
1x IR extension cable
1x Wireless remote control
1x Quick Setup Guide
| | |
| --- | --- |
| Frequency response: | 27 Hz - 85 Hz ("-6 dB") |
| SPL: | 103 dB |
| Driver Dimensions: | ⌀ 205 mm Bass |
| Driver Type (Bass): | Cone - Magnetically shielded driver. |
| Amplifier Power: | 150 W Bass (Class D) |
| Enclosure Material: | Die cast aluminium |
| Power Consumption (ISS Active): | ≤0.5 W |
| Power Consumption (Idle): | ≤12 W |
| Power Consumption (Full Output): | 120 W |
| Connections: | See "Additional Specifications" |
| Dimensions (h x w x d): | H 300 x W 362 x D 362 mm |
| Weight: | 8.5 kg |
Connections:
Input

1 x Optical Toslink Input
1 x Coaxial RCA Input 75 Ohm
1x Stereo IN 3.5mm jack female connector.
3x Analogue RCA inputs (L, R and LFE)

Output

2x Analogue RCA outputs (L, R)
Related products