Bubblebee - Invisible Lav Covers - Moleskin Big Bag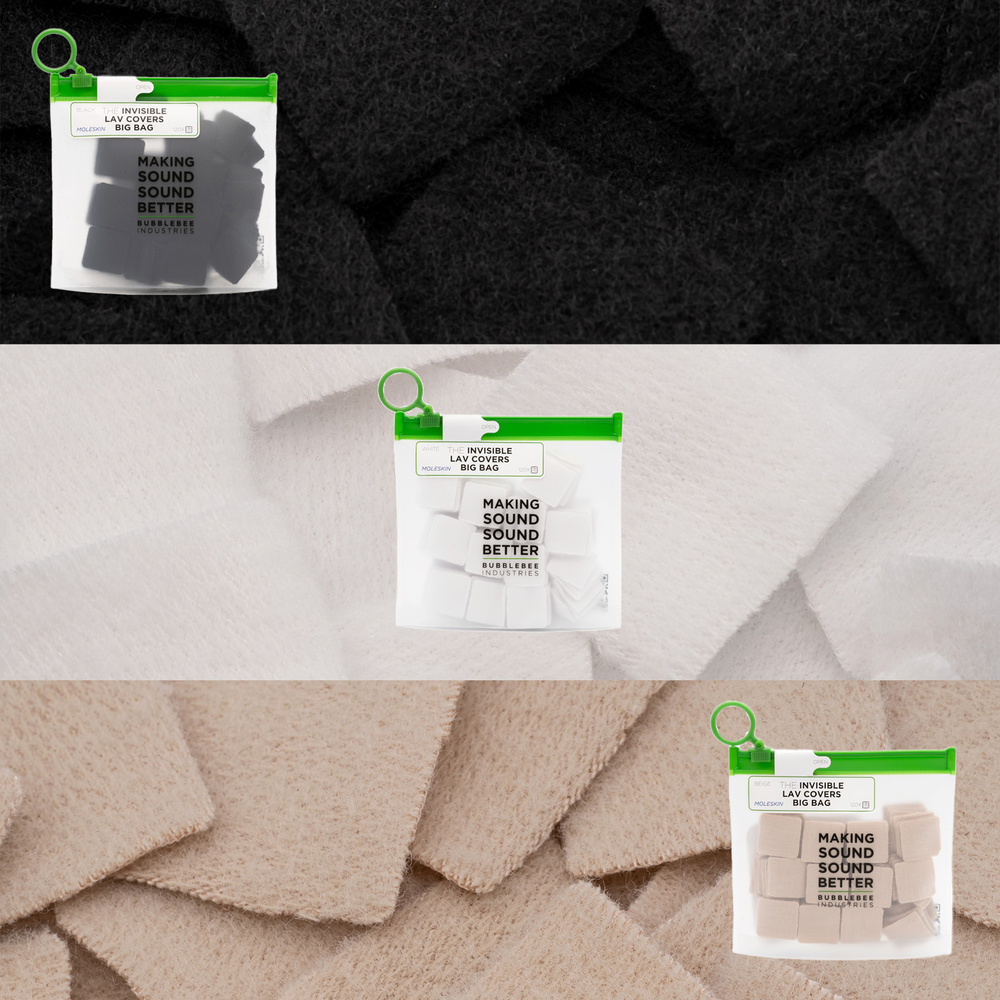 FOR ULTIMATE INVISIBILITY AND NOISE REDUCTION...
The Invisible Lav Covers - Moleskin offers a low-profile option to easily mount and hide your lavalier microphones directly on the skin or on clothing, drastically reducing friction noise whilst maintaining a high level of frequency transparency.
The Invisible Lav Covers - Moleskin is made from sustainably sourced bamboo, making it significantly quieter and more eco-friendly compared to alternatives.
Each package of The Invisible Lav Covers Big Bag - Moleskin consists of 120 pieces of moleskin squares (choose from black/beige/white).
FEATURES:
Optimal for use under clothing
Provides you ultimate noise reduction when mounting your lavalier mics
Stick directly to the skin or clothing
120 pieces of super soft, sustainably sourced fabric made from bamboo
Low-profile, discreet design offers ultimate invisibility
Comes in a useful reusable zip-lock storage pouch
Designed in Denmark by Sound Lovers, for Sound Lovers
Use our transparent, double-sided Invisible Lav Tape (sold separately) to keep your microphone and Invisible Lav Cover firmly in place whilst sticking directly to the skin or to clothing allowing the microphone to be safely and securely mounted almost anywhere. It's all about being creative: under the collar, next to a buttonhole, or under the clothing in the chest area.
Not sure which colour to use? The Invisible Lav Covers - Moleskin are also available in a smaller multipack, that also includes our Invisible Lav Tape.
SPECIFICATIONS:
Each piece of moleskin measures 2.2 cm x 2.2 cm (0.86" x 0.86") and comes in a handy reusable zip-lock storage pouch.