DPA 4066 CORE Omni Headset Mic, Black Mini-Jack, Small
4066-OC-A-B34-LH-S
5713055020835 Pristine sound and durability
This microphone offers clean and transparent sound quality with lots of headroom. For years, this has been the chosen headset mic for broadcasters as well as theaters on Broadway, as well as in many auditorium and lecture halls. This is due to its pristine sound and durability.
NORMAL size headset fits most adults.
SMALL Size well on most children as well as
Resistant to humidity
Double-vent protection system
Modular adapter system fits most professional wireless systems
The headset construction is unique. You can detach the mic boom from the headset mount to switch it to either the left or right side and then reattach it. Humidity, often an issue in theatrical applications, is not a problem. This microphone is constructed with a double-vent protection system and a drop stopper on the microphone boom. Also, the materials inside the mic are water resistant. These design elements make it very difficult for the microphone to fail due to humidity.
The microphone's sensitivity is 6 mV/Pa. This matches the level of the human voice to the general input sensitivity of most wireless transmitters. If powered correctly, the microphone will be able to handle very high sound pressure levels up to 144 dB SPL before clipping occurs.
IP58 certified
All CORE by DPA technology microphones are IP58 certified. This durability is achieved through a number of defense mechanisms:
Water-repellant nano-coating of the cover and housing
Hermetic sealing of the sensitive amplifier at the core of the mic
Dual gold plating of the diaphragm
DPA 4066 Frequency Response: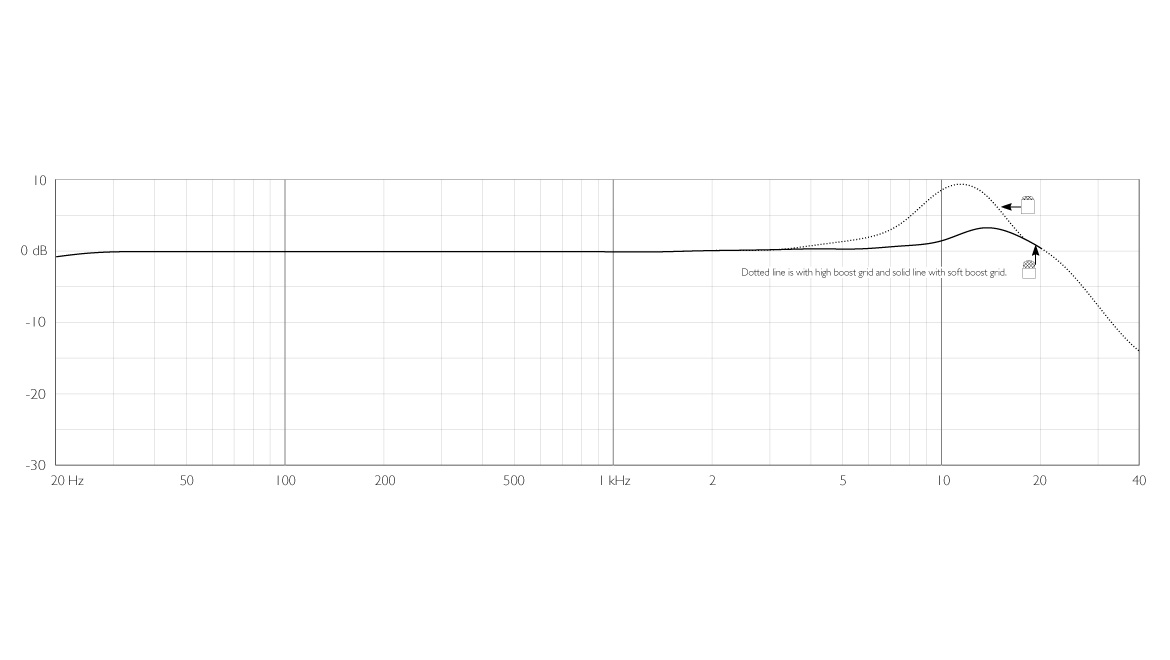 Typical on and off-axis response of a 4066
DPA 4066 Polar Pattern: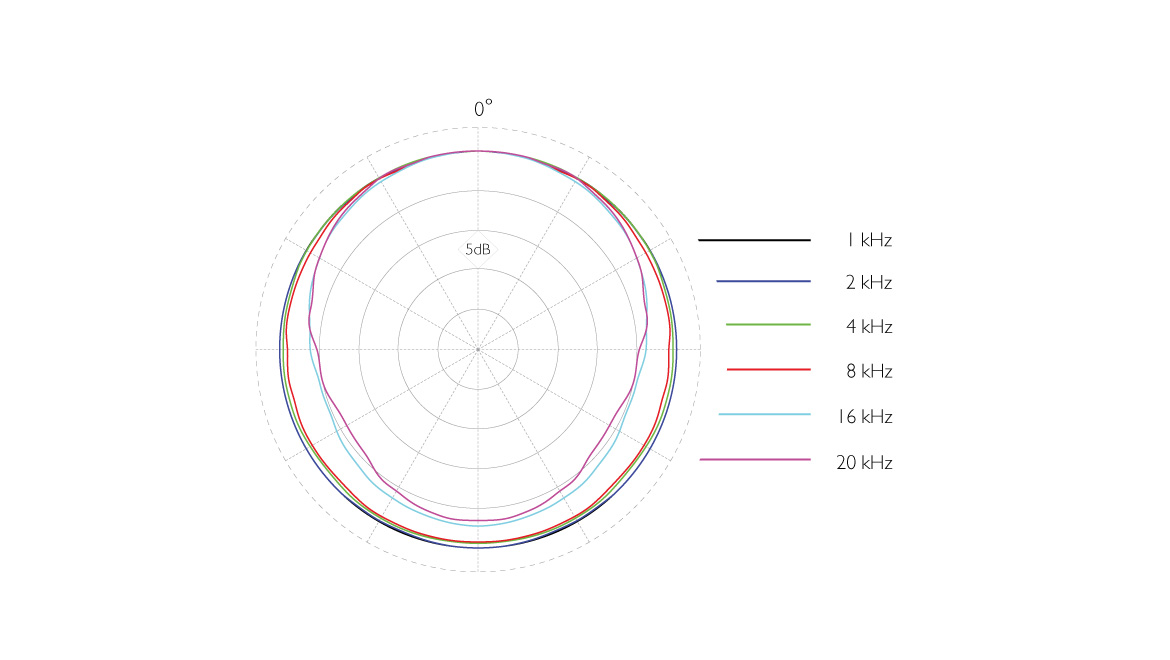 Typical directional characteristics of a 4066
1x DPA 4066 CORE Omni Headset Mic
5x Foam Windscreen
1x Soft-boost Grid
1x High-boost Grid
Directional Pattern:
Omnidirectional
Principle of operation:
Pressure gradient
Cartridge type:
Pre-polarized condenser
Frequency response:
20 Hz - 20 kHz
Dynamic range:
Typ. 111 dB
Size:
Small
Color:
Black
Connector:
Mini-Jack Sennheiser
Effective frequency range ±2 dB:
Soft boost grid: 40 Hz - 20 kHz, 3 dB soft boost at 8 - 20 kHz. High boost grid: 40 Hz - 20 kHz, 10 dB boost at 12 kHz
Sensitivity, nominal, ±3 dB at 1 kHz:
6 mV/Pa; -44 dB re. 1 V/Pa
Equivalent noise level, A-weighted:
Typ. 26 dB(A) re. 20 µPa (max. 28 dB(A))
Equivalent noise level, ITU-R BS.468-4:
Typ. 38 dB (max. 40 dB)
Distortion, THD < 1%:
134 dB SPL RMS, 137 dB SPL peak
Max. SPL, THD 10%:
144 dB SPL peak
Rated output impedance:
30 - 40 Ω
Cable drive capability:
Up to 300 m (984 ft) with DAD6001-BC XLR adapter
Power supply (for full performance):
For wireless systems Min. 5 V - max. 10 V through DPA adapter
With DAD6001-BC: P48 (Phantom Power). Will work from 12 V
Current consumption:
Typ. 1.5 mA (microphone). 3.5 mA with DAD6001-BC XLR Adapter
Polarity:
Positively increasing sound pressure produces positive going voltage on MicroDot pin
Weight:
14 g (0.5 oz) incl. Cable and MicroDot connector
Microphone diameter:
5.4 mm (0.21 in)
Cable length:
1.2 m (3.9 ft)
Cable diameter:
1.6 mm (0.06 in)
Temperature range:
-40°C to 45°C (-40°F to 113°F)
Relative humidity (RH):
Up to 90%
Related products