DPA 4061 CORE Stereo Microphone Kit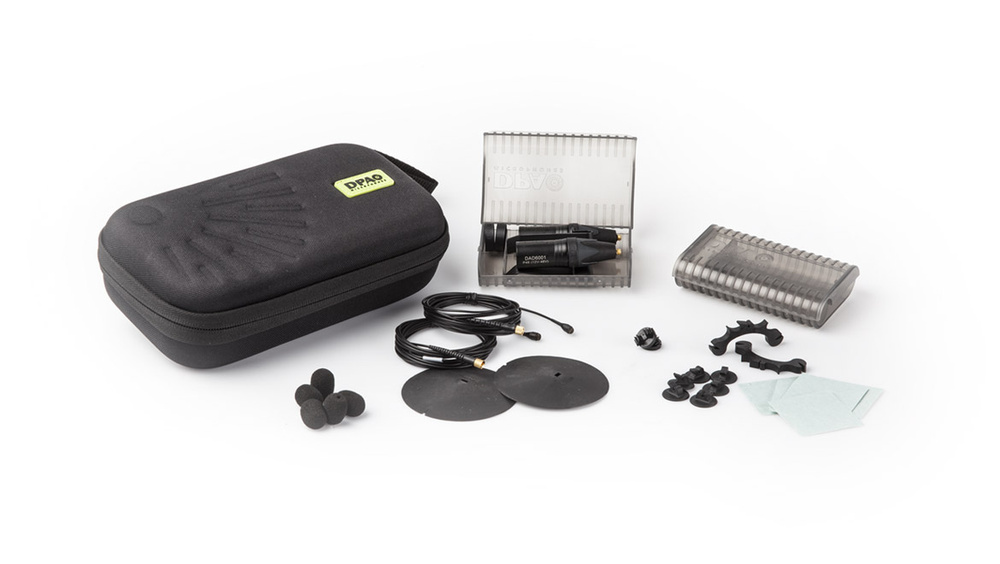 4061 Microphone Stereo kit for loud SPL
Similar in content to the 4060 Stereo Microphone Kit, this kit is a cost-effective and flexible stereo recording solution aimed at project studios and for discreet mic setup on stage. It contains a complete stereo pair; two handpicked omnidirectional condenser microphones, selected on sensitivity within ±1.5 dB.
Extremely rugged and reliable
Exceptional audio quality
Low noise and high sensitivity
Large selection of accessories
Modular adapter system fits most professional wireless systems
It combines two 4061 Miniature Omnidirectional Microphones, with a variety of mounting accessories for use with high SPL sources.
Directional Pattern:
Omnidirectional
Principle of operation:
Pressure gradient
Cartridge type:
Pre-polarized condenser
Frequency response:
20 Hz - 20 kHz
Dynamic range:
Typ. 111 dB
Effective frequency range ±2 dB:
Soft boost grid: 20 Hz - 20 kHz, 3 dB soft boost at 8 - 20 kHz. High boost grid: 20 Hz - 20 kHz, 10 dB boost at 12 kHz
Sensitivity, nominal, ±3 dB at 1 kHz:
6 mV/Pa; -44 dB re. 1 V/Pa
Equivalent noise level, A-weighted:
Typ. 26 dB(A) re. 20 µPa (max. 28 dB(A))
Equivalent noise level, ITU-R BS.468-4:
Typ. 38 dB (max. 40 dB)
Distortion, THD < 1%:
134 dB SPL RMS, 137 dB SPL peak
Max. SPL, THD 10%:
144 dB SPL peak
Rated output impedance:
30 - 40 Ω
Cable drive capability:
Up to 300 m (984 ft) with DAD6001-BC XLR adapter
Power supply (for full performance):
For wireless systems Min. 5 V - max. 10 V through DPA adapter
With DAD6001-BC: P48 (Phantom Power). Will work from 12 V
Current consumption:
Typ. 1.5 mA (microphone). 3.5 mA with DAD6001-BC XLR Adapter
Polarity:
Positively increasing sound pressure produces positive going voltage on MicroDot pin
Sensitivity selection tolerance (at 1 kHz):
±1.5 dB
Microphone diameter:
5.4 mm (0.21 in)
Microphone length:
12.7 mm (0.5 in)
Cable length:
1.8 m (5.9 ft)
Temperature range:
-40°C to 45°C (-40°F to 113°F)
Relative humidity (RH):
Up to 90%