Sound Devices A20-Nexus Go - 4-8 Channel True-diversity Wireless Receiver with SpectraBand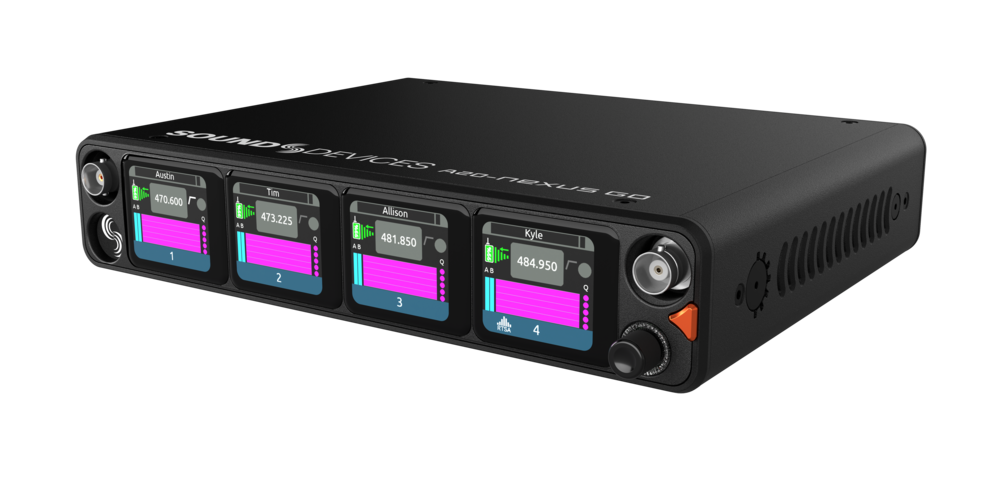 Ready.
When you're doing bag work, you need a high-quality, high-channel-count audio receiver that won't weigh you down. Sound Devices' A20-Nexus Go true-diversity wireless receiver was made with portability in mind. It comes with four receiver channels, and can be expanded to six and eight channels via software license, without additional hardware. Need to transition to a rack or cart? The A20-Nexus Go receiver's half-unit size will save you space there, too. It's ready for anything.
Set.
The A20-Nexus Go receiver has an advanced set of features inherent in the Sound Devices Astral family of products, including:
SpectraBand: The A20-Nexus Go receiver utilizes the unparalleled SpectraBand tuning range of 169 – 1525 MHz, allowing you the ability to find open spectrum, even in the busiest UHF TV band.
GainForward: No more stopping the action on set. No more adjusting the transmitter gain on the talent. You can set your levels and make adjustments at your A20-Nexus Go receiver and not at the transmitter with GainForward.
Go.
The A20-Nexus Go receiver is ready to go the distance, thanks to Sound Devices' proprietary NexLink protocol.
NexLink: By utilizing the NexLink protocol, the A20-Nexus Go receiver has full long-range remote control of transmitters, even in the presence of on-set 2.4 GHz interference.
RTSA: With NexLink and the A20-Nexus Go receiver's integrated RTSA (Real Time Spectrum Analyzer), you can visually monitor the changing RF environment without interrupting the audio or a shoot.
AutoAssign: Save time on set. The AutoAssign function automatically scans the current tuning band for clean frequencies and assigns them to multiple channels. The clean frequencies are then automatically pushed to transmitters linked to the NexLink protocol. This is all done with one button in mere seconds.
Features
4-channel ultra-high-performance, true-diversity receivers in a half-rack size (20.3cm x 16.8cm x 4.1cm).
Expandable to 6 or 8 channels via A20-Nexus Go 2-Channel Expansion Licenses.
169 MHz – 1525 MHz tuning range via Sound Devices' proprietary SpectraBand Technology.
Sound Devices NexLink: integrated, long-distance remote control of all wireless transmitters, including group power on/off.
AutoAssign: automatic deployment of clean frequencies in seconds.
Integrated Real Time Spectrum Analyzer (RTSA) and scanning for intuitive frequency coordination.
Flexible powering: via DC input, 8-Series, or AC mains (with optional adapter).
DB-25 connector for 8 channels of mic, line, or AES outputs.
Wide, 6.2" color OLED array with touch for control and monitoring.
A20-QuickDock allows docking and undocking in seconds from Sound Devices 8-Series mixer-recorders with no tools or additional hardware.
Supports GainForward Architecture: No gain setting on the A20 transmitter. Adjust gain at the receiver or mixer.
100% digital long-range modulation delivers the longest transmission distance of any digital system on the market. 
RF SAW filters for excellent rejection of interference from nearby IFB or camera hop transmitters.
Excellent audio quality, full 10 Hz – 20 kHz audio bandwidth.
BNC timecode input for auto timecode sync of transmitters over NexLink.
Front panel and rear panel BNC antenna inputs. Compatible with passive and bias-powered antennas
Supports control of the Wisycom LFA smart antenna.
Cascade out option on rear BNCs for cascading multiple A20-Nexus Go units.
USB-A port for thumb drives, keyboards, transmitter pairing, and timecode syncing. Supports USB hubs.
1x Sound Devices Nexus Go - 4-8 Channel True Diversity Receiver
2x A20-Monarch SpectraBand antennas
2x Articulating arm with clamp and 1⁄4-20 thread mount
2x 30in/75cm BNC – BNC cable
2x 2.4GHz SMA Tilting antenna
2x NexLink side mounting brackets with SMA to SMA cable
RF
Tuning

169 to 1525 MHz (1356 MHz switching bandwidth)
25 kHz steps
SpectraBand Technology for maximum rejection of out-of-band signals
Available frequencies depend on country of operation



Modulation

Proprietary, 100% digital RF modulation
Standard or Long Range, selectable per channel



Spurious Rejection
Cascade output

50 ohm
3.5 dB Insertion Loss from front BNC through rear BNC: It is recommended to use an external powered antenna to overcome the 3 dB splitting loss in the A20-Nexus so that the receivers maintain excellent range
Wideband power split, pre-LNA



RF Bias output

12V, 200 mA each BNC
Smart antenna support, Wisycom-compatible


Audio
Latency

Standard modulation = 2 ms, analog or digital outputs
Long Range modulation = 3.9 ms, analog or digital outputs



Audio Frequency Response

10 Hz–20 kHz, +/- 1 dB relative to 1 kHz



Dynamic Range

130 dB with an A20 transmitter



Output Level

Line-level: +20 dBu for 0 dBFS
Mic-level: -20 dBu for 0 dBFS



Audio Output Sample Rate
Digital Audio Output

AES3 balanced connection, 110 ohm output impedance


Powering
Sources

TA4 DC Input
8-Series (through unit-to-unit connector when docked)
AC mains adapter (sold separately)



Levels

DC input, 10 to 18V in, 2A minimum at 10 VDC
10W idle, default configuration
Extra power passed through for USB power, active antenna power, and DC output power
USB-A: 5V, 500 mA output; supports keyboards, thumb drives, A20 transmitters, and USB hubs
DC Outs: max 500 mA between both outputs.


Environmental
Operating Temperature Range
Dimensions (H x W x D)

4.0 cm x 20.3 cm x 16.7 cm



Weight
Related products