Accsoon Cineeye 2S Portable Wireless WIFI Video Transmitter with SDI and HDMI Input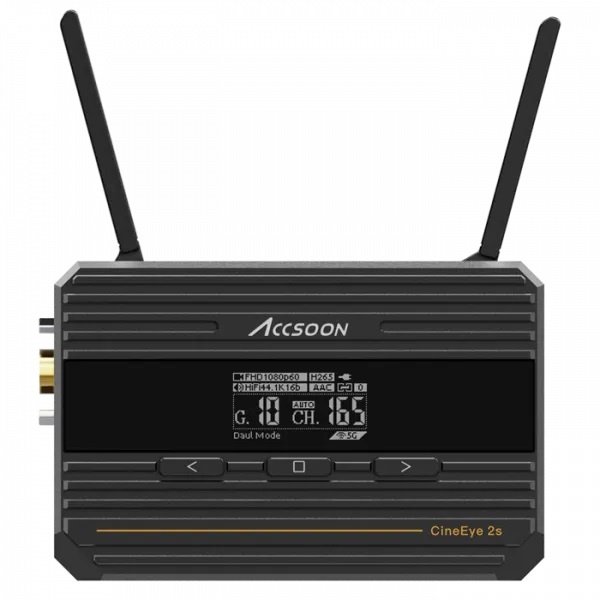 Wireless WIFI Video Transmitter with SDI and HDMI Input
Accsoon CineEye 2S is a portable wireless WiFi video transmitter. It is identical to the CineEye 2, except that it has both SDI and HDMI inputs, which is a great budget-friendly alternative to expensive wireless video transmitters. In addition to the same features as the CineEye 2, images captured by CineEye 2S can be streamed via RTMP to viewers or remote clients who use YouTube and other web platforms.
SDI In & HDMI In
The CineEye 2S has an HDMI input as well as an SDI input. No matter what kind of camera you have, you can use CineEye 2S wireless video transmitter to complete image and voice transmission.
Claimed <0.06s Ultra-low latency
CineEye 2S quotes a figure of 60ms for latency. While most camera devices add to the problem of latency in shooting, CineEye 2S has an almost imperceptible latency of fewer than 60ms, which guarantees the synchronization of shooting.
Transmission Range up to 500ft/150m
With CineEye 2S, you can easily get up to 500ft/150m far away and still have a stable signal, this is usually going to be achievable on flat, open terrain where there is little wireless interference. In most cases, CineEye 2S can exceed operating claimed distance by a wide margin.
High Resolution & Low Buzz
CineEye 2S supports multiple video input of up to 1080p/60fps, also supports 44.1kHz/48kHz 16bit/24bit also input, and it streams the audio with low compression codec, giving you near lossless audio monitoring experience.
Hook Up With 4 Screens
CineEye 2S allows you to monitor your camera feeds wirelessly on multiple iOS and Android devices. Rigging up a lightweight CineEye 2S to a camera so that directors, makeup artists, or even a production designer can see images, which is an affordable way to offer a wireless feed to clients or crewmembers you work with.
Quiet transmitter with low power consumption
CineEye 2S differs from other built-in fans wireless video transmitters in that it adopts a fanless setup to gain ultra-clear audio and ultra-low power consumption.
Professional monitoring App: Accsoon Go
Accsoon GO App is more than just a viewer. It gives you the ability to activate monitoring functions such as greyscale, RGB, histogram, waveforms, focus peaking, grids etc. You even get the ability to operate video and audio recordings with this APP.
Easy Firmware Updates
Rely on the official App: Accsoon Go Only download Accsoon's official App: Accsoon Go from the iOS or Android application store. Then use Accsoon Go to upgrade your CienEye 2S.
1.3 inch Build-in OLED Screen
On the front side of the CineEye 2S is a small-sized OLED display where you can see crucial information and make changes, such as input video and audio info, battery level, connection status and current 5G WiFi channel.
DC Port Power or Optional Battery
CineEye 2S has in-built battery plates that can take Sony NP batteries. You also have the option to power it through a 7.4V-16.8V DC input. Charge the way you like.
1x Accsoon Cineeye 2S Portable Wireless WIFI Video Transmitter
Video Input - SDI/HDMI
SDI (Level A)

1080p 23.98/24/25/29.97/30/50/59.94/60fps
1080p 23.89/24/25/29.97/30PsF

HDMI

1080p 23.98/24/25/29.97/30/50/59.94/60fps
720p 50/59.94/60fps
480p 59.94/60fps

Audio - 44.1KHz/48KHz 16bit/24bit PCM
Latency - <0.06 seconds ( Camera latency not included)
OLED - 1.3 inch OLED
Transmission Power - 17~20dBm
Transmission Range - 152 Meters(no obstacles, no interference)
Power Consumption - 4 Watt (Typical)
Operating Temperature - -10~40℃
Dimensions - 108mm×68.5mm×30mm(Antenna not included)
Weight - 213g