DPA 4006ES Omni Mic, Side Cable, XLR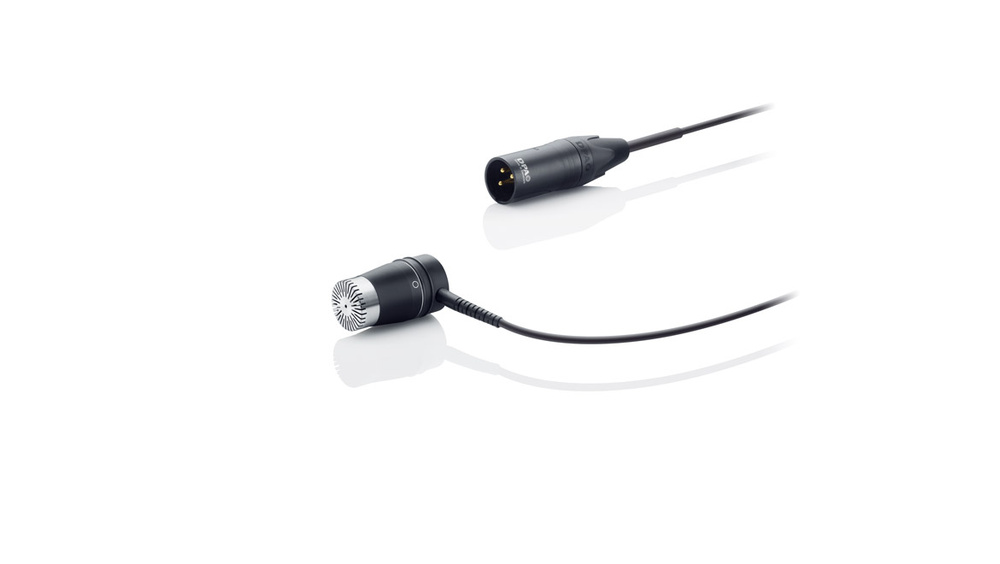 4006ES
5713055007485 4006ES Omni Mic
When small, lightweight and barely visible microphones for top-quality recordings are required, the active cable design and clean, transparent sound of our ultra-compact 4006ES Omnidirectional Microphone makes them the perfect choice. The mic features an integrated cable solution with either side (4006ES) or rear (4006ER) cable entry.
These mics are particularly popular as A-B stereo or Decca Tree pairs in concert halls. The SM4000 Suspension Mount is included in the package, allowing the mic to be hung from the ceiling to create precision spot-miking of orchestra sections or ambience atmosphere.
This solution is ideal in theatres, opera houses, concert halls or houses of worship and for film applications, both in the studio and on location. These mics are also popular for ambience miking on soundstages, in sports stadiums and other environments where ambient sound needs to be recorded.
The 4006ES replaces the non-modular legacy 4051 Omni Condenser Mic
Transparency, detail and depth of sound
The 4006 Omni Mic offers total transparency in any recording situation. It picks up incredible detail and depth of sound. The definition of its high-frequency characteristics across a wide range of instruments is impressive. It offers natural sound, high sensitivity, low noise-floor and linear frequency response from 10 to 20 kHz (±2 dB).
Acoustic authenticity
Linear throughout a large frequency bandwidth
Detailed and natural reproduction
High sensitivity and low noise floor
Excellent for concert halls and spot miking acoustical instruments
Modular flexibility
Built on Earth, tested on Mars
NASA's Mars 2020 Rover took off on July 30, 2020 for a seven-month journey to the mysterious Red Planet. It touched down successfully on February 18, 2021 with a DPA 4006 Omnidirectional, an MMA-A Digital Audio Interface and an MMP-G Modular Active Cable in tow.
This mic is linear and true in character. It has earned its status as a worldwide recording standard and is our most popular pencil mic. This highly sought after mic has forged its enviable reputation over the past quarter of a century by repeatedly exhibiting its total transparency in any recording situation.
Combine it with the preamp of your choice
As with all of the modular pencil microphones, you can combine the Omni Mic Capsule with any of our preamps.
The MMP-A Microphone Preamp is an ultra-transparent, transformerless preamp with active drive for impedance balancing. The MMP-C Compact Microphone Preamp is an ultra-compact preamp with active drive for impedance balancing. It has a slightly softer character than the other preamps for our pencil microphones.
Other preamps include the very small form factor types MMP-E Modular Active Cable (XLR output) and MMP-G Modular Active Cable (MicroDot output), allowing for very slim set-ups. The MMP-G even allows you to match a larger microphone directly to a wireless transmitter.
You can combine any of the preamps with any of the modular capsules in the Pencil Microphones Series.
1x DPA 4006ES Omni Mic
1x Free-Field Grid
1x Close Miking Grid
1x Diffuse-Field Grid
1x Foam Windscreen
1x Clip for MMP-E
| | |
| --- | --- |
| Directional Pattern: | Omnidirectional |
| Principle of operation: | Pressure gradient |
| Cartridge type: | Pre-polarized condenser |
| Frequency response: | 10 Hz - 20 kHz |
| Dynamic range: | Typ. 117 dB |
| Preamp: | MMP-ES - Preamp with Side Cable |
| Effective frequency range ±2 dB: | 20 Hz - 20 kHz |
| Sensitivity, nominal, ±2 dB at 250 Hz: | 40 mV/Pa; -28 dB re. 1 V/Pa |
| Equivalent noise level, A-weighted: | Typ. 15 dB(A) re. 20 µPa (max. 17 dB(A)) |
| Equivalent noise level, ITU-R BS.468-4: | Typ. 27 dB (max. 29 dB) |
| Distortion, THD < 1%: | 129 dB SPL RMS, 132 dB SPL peak |
| Max. SPL, THD 10%: | 132 dB SPL peak |
| Rated output impedance: | 100 Ω |
| Minimum load impedance: | 2 kΩ |
| Cable drive capability: | 100 m (328 ft) |
| Output balance principle: | Impedance balancing |
| Common mode rejection ratio (CMRR): | > 40 dB |
| Power supply (for full performance): | P48 (Phantom Power) |
| Current consumption: | 3.5 mA |
| Maximum output voltage, RMS: | 2.2 V |
| Polarity: | +V at pin 2 for positive sound pressure |
| Matching tolerance (frequency response and sensitivity): | ±0.5 dB |
| Phase deviation for kit: | < 5° |
| Weight: | 114 g (4 oz) |
| Microphone diameter: | 16 - 19 mm (0.6 - 0.75 in) |
| Capsule diameter: | 16 mm (0.6 in) |
| Microphone length: | 35 mm (1.38 in) |
| Temperature range: | -40°C to 45°C (-40°F to 113°F) |
| Relative humidity (RH): | Up to 90% |
Related products