DPA 6061 CORE Omni Submini Mic, Loud SPL, Brown, Mini-Jack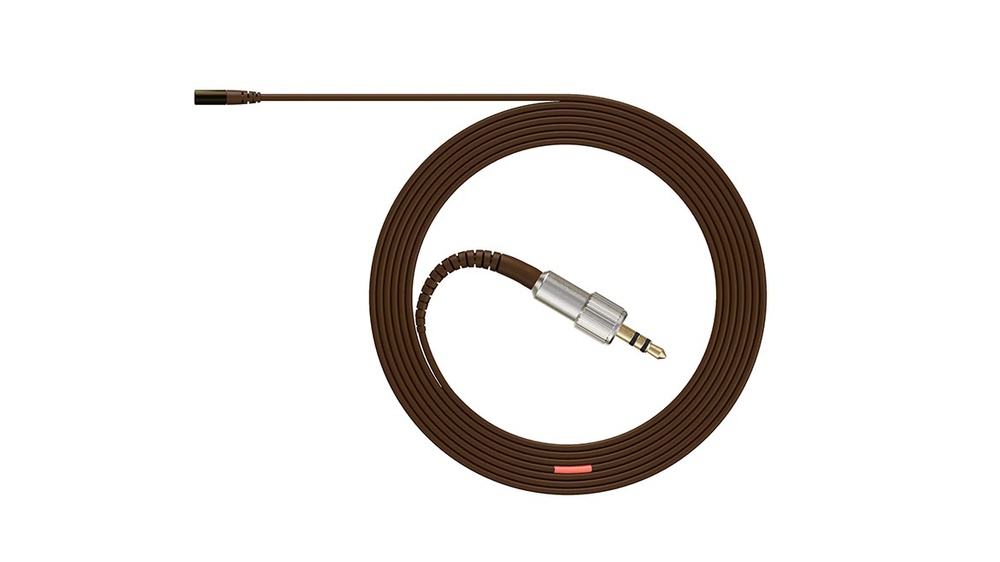 6061-OC-U-C34
5713055021177 Miniature mic for Loud SPL
One of the best subminiatures for use on very loud sound sources, such as some human voices. The 6061 works well for hidden applications and is most often used to capture the voice when the mic is mounted on the forehead of a theater performer
Amazing 3 mm CORE capsule technology
Renowned DPA sound in a 60% smaller package
Stainless steel, PVD-coated mic housing
Modular adapter system fits most professional wireless systems
Exceptional audio quality
Uniform, consistent sound between DPA mics
Extremely rugged and reliable
Large selection of clips, windscreens, grids and other accessories
3 mm of Audio Perfection
6061 CORE Subminiature Microphones are just 3 mm (0.12 in) in size but pack the audio power of our larger, award-winning DPA mics. What they lack in size, they more than make up for in clarity, consistency and durability – three qualities that really matter. In terms of technical specifications, the 6061 has a noise floor of only 26 dB(A), which is on par with the 5 mm (0.20 in) DPA miniature capsules.
Advanced new mic design
This tiny capsule has a cap that can be removed for cleaning and should be firmly reattached to the mic body with a firm click that can both be felt and heard. The supplied cap corresponds in its nature to the low-boost grid of our 5 mm (0.20 in) versions. Both the mic itself plus the cap are made of stainless steel and treated with a Physical vapor deposition (PVD) coating that makes it extremely durable: able to tolerate high temperatures, resilient against impacts and resistant to abrasion. The entire mic has a pleasant matte look due to the coating making the entire headset look smaller and less obtrusive.
Maximum Durability
The cable is often the weak spot on these types of mics, but we have opted to use the same size cable (Ø 1.6 mm (.06 in)) and the same rugged cable relief as on our 5 mm (0.20 in) mics. The cables are extremely durable, do not become entangled and are equipped with an inner core made of Kevlar that withstands rough pulls. A strain relief is integrated in the mic housing to strengthen the assembly.
The cable and capsule design ensure immunity to noisy wireless devices. These mics are typically connected to a wireless belt pack and we offer a comprehensive mix of adapters to suit the many wireless transmitters available. When used with an adapter, the connector is our MicroDot but we also offer hardwired terminations to suit the most popular systems from manufactures such as Shure and Sennheiser. All of our connectors are equipped with a rugged strain relief.
It's the only 3 mm (0.12 in) mic that gives you the DPA sonic quality that you know and love.
6061 Frequency Response: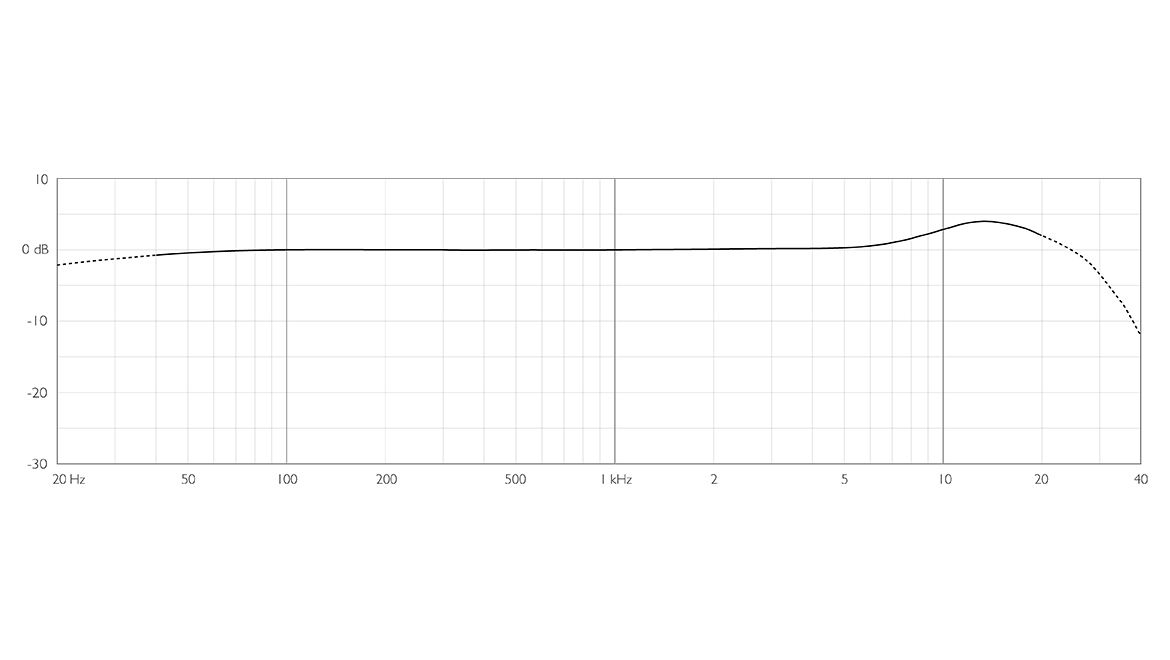 Typical response of a 6061
6061 Polar Pattern: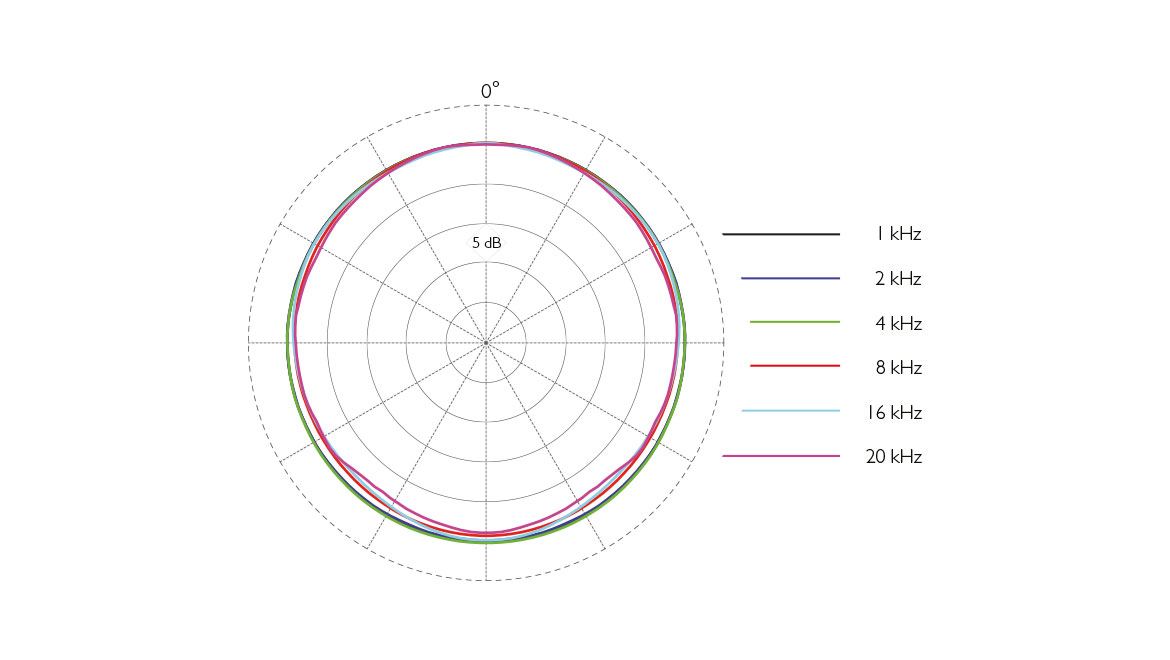 Typical directional characteristics of a 6061
1x DPA 6061 Omni Core Microphone - LOUD SPL
Directional Pattern:
Omnidirectional
Principle of operation:
Pressure gradient
Cartridge type:
Pre-polarized condenser
Frequency response:
20 Hz - 20 kHz
Dynamic range:
Typ. 102 dB
Color:
Brown
Connector:
Mini-Jack Sennheiser
Effective frequency range ±2 dB:
40 Hz - 20 kHz with 4 dB soft boost at 8 - 20 kHz
Sensitivity, nominal, ±3 dB at 1 kHz:
6 mV/Pa; -44 dB re. 1 V/Pa
Equivalent noise level, A-weighted:
Typ. 26 dB(A) re. 20 μPa (max. 28 dB(A))
Distortion, THD < 1%:
125 dB SPL RMS, 128 dB SPL peak
Max. SPL, THD 10%:
144 dB SPL peak
Rated output impedance:
From MicroDot: 30 - 40 Ω. From DAD6001-BC: 100 Ω
Cable drive capability:
Up to 300 m (984 ft) with DAD6001-BC XLR adapter
Power supply (for full performance):
For wireless systems Min. 5 V - max. 10 V through DPA adapter
With DAD6001-BC: P48 (Phantom Power). Will work from 12 V
Current consumption:
Typ. 1.5 mA (microphone). 3.5 mA with DAD6001-BC XLR Adapter
Polarity:
Positively increasing sound pressure produces positive going voltage on MicroDot pin
Microphone head size (h x w x d):
3.4 / 14.4 mm (0.13 / 0.57 in)
Capsule diameter:
3 mm (0.12 in)
Cable length:
1.8 m (5.9 ft)
Temperature range:
-40°C to 45°C (-40°F to 113°F)
Relative humidity (RH):
Up to 90%
Related products